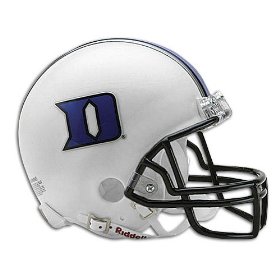 Durham, N.C. - Duke Football continued its in state recruiting success when they got a commitment from Nick Sink, a 6-6 245 pound prospect from Forsyth Country Day.
Sink becomes the 16th player in the Blue Devils class of 2010 announcing his intent on Thursday.
The newest addition to the Duke Football family plays tight end and defensive end in high school and will likely play the DE spot in college.
Duke tendered an offer after Sink attended their 17-13 victory over Maryland.
Sink had 26 catches for 426 yards and four touchdowns in nine games this past season.  On defense, Sink garnered 43 tackles, 3 for sacks and several for negative yardage.
Sink starts for the basketball team and holds the school record for 3-pointers and participates with the track team where he specializes in the shot put.