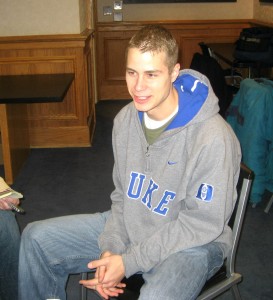 Back on October 8th, I posted my ACC Basketball 2009-10 Season Preview including scintillating supporting rationale for my thought processes. With nine conference games in the books, it is time to revisit my words of wisdom in order to determine how accurate I am as a prognosticator.
Not suprisingly, there have been a lot of upsets along the way as upsets are situation normal in college basketball.
Let's start by comparing the predictions to current standings:
Prediction Current Standings
1. Duke 1. Duke (7-2)
2. North Carolina 2. Maryland (6-2)
3. Maryland 3. Wake Forest (6-3)
4. Clemson 4. Virginia Tech (5-3)
5. Florida State 5. Virginia (5-3)
6. Georgia Tech 6. Florida State (5-4)
7. Wake Forest 7. Georgia Tech (5-4)
8. Boston College 8. Clemson (4-5)
9. Virginia Tech 9. Boston College (3-6)
10. Virginia 10. North Carolina (2-6)
11. Miami 11. Miami (2-7)
12. N.C. State 12. N.C. State (2-7)
It is important to address first things first and I predicted Duke would end the regular season in first place, and at the halfway point, there are the Blue Devils positioned atop the ACC with a one-half game lead over Maryland.
Duke leads the ACC in scoring offense (81.4), scoring margin (+18.4), free throw percentage (.757), 3-point field goal percentage (.390), and offensive rebounding percentage (.408). The Blue Devils have been dominant at home and evened their conference road record at 2-2 with Saturday's win at Boston College.
With three of the remaining seven conference games being in Cameron Indoor Stadium, Duke has a strong shot at finishing the regular season at 13-3 or 12-4. Winning out and finishing 14-2 isn't beyond the realm of possibility, but there is a very tough game at Maryland still on the schedule and everyone knows anything can happen in the two games against the arch rival Tar Heels.
And at the bottom, Miami and N.C. State are right where I expected them to be – in last place. So my predictions were solid at the top and bottom. I do not expect anything to change over the second half of the season for these two teams. Boston College will challenge for the basement.
Topping the "not so brilliant" category is my prediction North Carolina would finish second. In fact, the Tar Heels are 2-6 in conference play and have lost six of their last seven games. However, I will refrain from any in-depth analysis of the boys in pale blue until after Wednesday night's game.
Predicting Virginia would finish 10th is also not making me look too bright at the halfway mark. The Cavaliers have been impressive at times with several nice wins. However, Virginia has a brutal schedule from this point going forward so their position in the standings will steadily fall. With games at Maryland, at Virginia Tech and at Clemson; and home against Florida State, Duke and Maryland, it is hard to see how the Cavaliers finish with more than eight conference wins.
A half game out of first place, Maryland is, as expected, one of the top teams in the conference. Coach Gary Williams always has his team ready for big games and this year is no exception. The Terrapins have a big game at Duke this coming weekend and also have to face Georgia Tech, Clemson, and Duke at home down the stretch. Greivis Vasquez is one of the top players in the conference and a legitimate threat to take over a game at anytime. I fully expect Maryland to finish strong and end up in second place with a 12-4 or 11-5 record.
Wake Forest is currently in third place one full game behind Duke. The Demon Deacons have road games remaining at Virginia Tech, at N.C. State, and at Florida State; and play Boston College, Georgia Tech, UNC, and Clemson at home. Wake Forest should finish the season no worse than 10-6.
At 4-5, Clemson's season has to be deemed a bit of a disappointment. The Tigers have lost four of their last five games. At this point, priority number one for Coach Oliver Purnell has to be a healthy Demontez Stitt. He has been slowed and Clemson is a different team when he is 100 percent. I believe Clemson will end the year at 8-8.
Virginia Tech is currently 5-3 and tied for fourth place with Virginia. The Hokies have tough games remaining at Duke and at Georgia Tech; and home against Wake Forest and Maryland. Virginia Tech will finish in the muddy middle at 8-8.
Georgia Tech and Florida State are tied for sixth place at 5-4. These two teams will be fighting it out for fourth place and the final first round bye at the ACC Tournament. I believe Georgia Tech has the superior talent and will grab the last bye.
The four ACC teams who will earn a first round bye are: Duke, Maryland, Wake Forest, and Georgia Tech. I've changed my mind on 50 percent of the teams. Duke and Maryland are my consistent picks, while North Carolina and Clemson have been replaced by Wake Forest and Georgia Tech.
There is a lot of basketball left to be played between now and the start of the ACC Tournament, 44 conference games to be exact, and there will certainly be plenty of upsets along the way so everyone should kick back and enjoy the stretch run of the regular season before gearing up for March Madness.