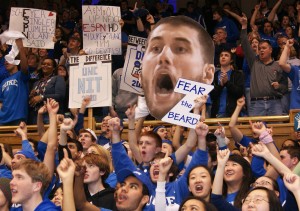 When ESPN's Game Day crew comes to town, it is a big event for the host school and this weekend the nation's focus is on Cameron Indoor Stadium where Duke takes on Carolina this evening in a game which will decide the ACC Champion and send off some beloved seniors in Jon Scheyer, Lance Thomas and Brian Zoubek,
A solid turnout of students and fans attended ESPN's Game Day morning session which was of course televised live and nationally.  Jay Bilas drew some cheers as did Bobby Knight while Digger Phelps got a little love simply because he picked Duke as a number one seed recently.
Then there was Hubert Davis, a former Tar Heel who likes to take some light shots at Duke from time to time.  Needless to say, he was greeted with a lot of boos.  Duke radio host Bob Harris also participated in the event as did several other local types.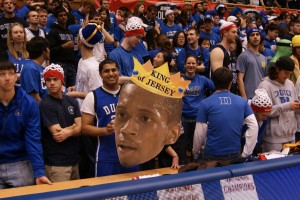 Fans cheered on cue and were indeed loud as they held up car board cut outs of the player's heads and other signs which pretty much said "Go to Hell Carolina."  The students were treated to Game Day sweatshirts after the event and a walk around campus shows tents in every crook and cranny.  Everywhere you look there was Duke Blue as music filled the air on a bright and sunny day.
The ESPN Game Day crew moves outside of Cameron for the rest of the day and festivities pretty much continue as I type.  BDN will be on the scene to bring you all of the action and we will update from twitter throughout the evening.  So, stay tuned and tell your friends about Blue Devil Nation.
Win one free year of Blue Devil Nation Premium access by predicting the Duke-UNC final score on out Twitter page.  If you are the closest to the score, your name will be in lights and you will be on the inside with recruiting and more on BDN Premium, a subscription service for extended Duke coverage.