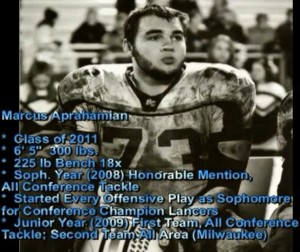 Marcus Aprahamian is a 6'5" 300 pound junior offensive tackle from Brookfield, Wisconsin. In addition to his efforts on the gridiron, Marcus is also a varsity track (shot put and discus) athlete at Brookfield Central High School, which produced Pro Bowl offensive tackle Joe Thomas of the Cleveland Browns. Marcus has been selected in the preseason Top 100 by Offense-Defense Sports, was named first team all-conference as a junior, and is generally regarded as the top 2011 offensive line prospect in the state.
On the sidelines and in the locker room, Marcus is a "great leader with great work ethic," but on the field he is "quick and relentless." He prides himself on finishing blocks, and continues to work to build strength and quickness heading into his senior year. This fall, he hopes to help lead his team to a conference and state title; personally, he would like to earn first team all-state honors in his senior year.
With a brother playing tight end at Dartmouth and his father a Princeton alumnus, academics will be an important component of his college choice. Like his father, Marcus has an interest in law, but is mostly looking for a school where he can picture himself and is able to connect with the coaching staff. Marcus would also like to have an opportunity to compete for playing time in his first year.
Marcus currently holds three BCS scholarship offers, two from the Big 10 and one from the ACC. He will visit Minnesota on April 24, and has already visited Indiana and Duke. Marcus was able to visit Indiana twice, attending a basketball game at Assembly Hall during one visit. Reflecting on his visits to Indiana, Marcus said he "loved it there, I really liked the big school environment." He also added that one of his high school teammates is strongly considering the Hoosiers.
He was able to visit Duke on April 1, touring the campus and football facilities with Coach Luke from 11AM to 5PM. His mother flew in and was able to tour the campus again with him the following day. Of his visit to Duke, Marcus said, "I really saw myself there." Unfortunately, Marcus was not able to meet with Coach Cutcliffe during his visit. Marcus hopes to finalize his college decision early in the summer and then attend summer camp at his future school.