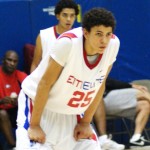 Young Austin Rivers is the nations top rated prospect in the class of 2011 and he signed his Letter of Intent to attend Duke University less than a day ago.  The Blue Devil Nation chatted with Rivers about his decision early Wednesday morning and he recapped what's next for him in the coming months.  The future Duke star talked of many things including, Coaches K and Collins, Kyrie Irving, Quinn Cook, the ESPNU special on Duke, Doc and the Celtics, his high school team and future matchups with Michael Gilchrist and well, you get the picture, we went in depth with Rivers BDN style.
In Austin's own words from the interview conducted yesterday -
I have officially signed and sent my Letter of Intent to Duke University.  I made my commitment to Duke and never though about going back on it and all I want to do is play for Duke right now.
Talk to me a bit about your pending high school basketball season ...
This coming Tuesday we play like an exhibition game.  I do have high expectations, maybe more than what some people might think, but that's just me.  I really feel like we can for sure win state again and possibly get back to the national championship.  The only thing we lack this year is size, but we're pretty athletic even if we don't look it.  I think we'll be pretty good and we are ranked top five or ten with ESPN.
My understanding is that your team has some big TV games scheduled ...
 We play on ESPN in the City of Palms if we make it to the semi final and ESPNU, we play against Micheal Gilchrist whose team comes to Winter Park.  And I think we will play Milton on New Years Day and I think that game will be picked up as well and maybe when we go to Wisconsin to play Adonis Thomas high school team.  Our third game is against Mt. Vernon Academy who was in the national championship last year, so we start out with two pre season games.  I don't expect us to have a perfect season with the schedule we have, but we want to win state and have a good record.
We've talked several times in the past, but in catching up with you is there anything you've been working on with concerns to your game since our last conversation?
Yeah, I've got a pretty [private] good post up game developing.  So, I've been working on that and my strength as well.  But I have added a post game so you'll see me there a lot if I have an undersized guard on me or I have some straight aways [lanes].  You can always add something, so I've been working on that.
I've watched you mature over the years on the AAU circuit and you are now really growing into your body and seem to be stronger on the court ....
That's kind of how I am.  I don't look the strongest or bench the most but mentally I'm stronger than most people.  A guy can be on me that's physically stronger than me, but I'll still bully him.  So it does't worry me how big I look in my jersey because I am definitely strong enough for the next level and I will continue to get stronger.  So, one of the strengths that people really don't know about is the mental aspect.
Have you been staying in close contact with any of the current players on the team?
I stay close to Kyrie.  He's on of my best friends so we text each other a lot and just last night I talked to with him on the phone about what was going on with him at Duke, so I always stay in touch with him.
Duke just signed Quinn Cook.  How do you feel about that and what do you know of his game?
I think it's huge.  I think we were in good position because we had Myck [Kabongo] or Quinn and you couldn't go wrong either way.  I'm real happy for Duke right now because Quinn's a goo guard and as solid as they come.  He'll have a huge impact on Duke, so I'm excited and think it's huge for us for it just adds depth for the team.
You're a very confident player on the court and seem to welcome the limelight.  That said, you have pretty much flipped flopped with Michael Gilchrist in the rankings.  Do you want to be the number one ranked player coming out of high school?
I never looked at the rankings as I want to be #1 but I do want people to know that I want to be the best.  I don't play to be ranked number one -- I play to be the best.  Right now I am ranked #1 but I am not playing for that but for my team and to be my best and I know if I do my job right, everything will work out well.  I know people are going to be coming after me this year, but I look forward to that stuff [said in an upbeat and enthusiastic way].  So yeah, I look forward to playing against Mike [Gilchrist].  I look forward to playing every night but there are games on the schedule I look at and look forward to the most and Gilchrist and St. Pat's is one of those.  I go up against Adonis Thomas and Milton, so I look forward to playing those guys.  I think we play against Quincy Miller at Palms and I'd like to play against Deuce and him if we win out.  It's not that I look at it as me against them, I just look forward to the opportunity.
I'm working on an article on Duke Assistant Coach Chris Collins and I know that after he payed a late visit you committed to Duke either that night or the next day.  Did his visit help seal the deal with you?
It kind of did.  I was already pretty sure it was Duke but his visit showed me that's the school I wanted to go to, that's the school I love and I really wanted to play for but just talking to him made my mind sure.  Having that little talk to him made me realize this is the right decision and it is where I want to go and I then knew that Duke was the place for me.  I love Coach Collins he's a great guy and a stand up coach.
Have you been watching the Duke ESPNU All Access specials?
Yeah, yeah I have [continued enthusiasm], they have like four of them so far?
Yeah, I think so, but there is a new one just released called "Training Days," that might be the best one.
I've  watched four of them but I will catch them all.
When's the last time you talked with Coach K [Krzyzewski]?
About a week ago, he just checked in to see how everything is going.  Right now, we're going to talk even more now that I signed.  Once you sign I can talk to him as much as I want and he the same with me.  So, we'll have a better relationship than we even do now, so I can't wait for that.
Your Dad is of course, Glenn "Doc" Rivers the coach of the Boston Celtics.  When you told him of your decision what was his reaction?
He was real excited about it and said it was one of the best days he has had.   So, he was really excited when I told him and you know, I was as well in talking with Coach Collins and it got me to really thinking and looking forward to playing in a Duke uniform.  I told Coach Collins that was where I wanted to go and of course, I called Coach K to let him know and he was ecstatic about it and we had a very good conversation.  As for Dad, he stays out of my business knowing this is going to be my career, but at the end of the day he's a Dad who knows a lot about the game of basketball, more than most people.  So, I am open to listen for he knows way more than I do about the game and the stuff he says always helps me out.  He doesn't say too much but when he does it helps.  I was talking with him before your call and we talked of who has been playing well with the Celtics and stuff.
So, you obviously keep up with the Celtics?
Of course.  I keep up with my Dad, my little brother on JV, my other brother at Indiana and my Dad and his team -- everybody in my family.
Will your mom, brother and such be able to get up to Cameron and watch you play a lot next season?
My mom will go to 80% of the games both away and home and my family will be at most of them as well.  I have a lot of friends and supporters down here and they'll be at my games as well.
I read about your moms cooking and I may knock on the door if I am ever in your neighborhood after seeing the menu.
[laughs]  Yeah, she's an awesome cook and I am not just saying that, so I will have to adjust to being away from that next year.  She always has time to cook for my family and she can whip it up in a heart beat.  She can hook anyone up and they'll want to come back.
It's official now, you are signed and sealed to Duke University.
Man, I can't wait to get there and I will be following them all year long.  I cannot tell you how happy I am to be signing with Duke.
With that said I think this is a good place to close the conversation.  Austin, thanks  for your time and good luck this season.  We'll talk again once your season gets under way.
Yeah, sure thing and thank you. [/private]