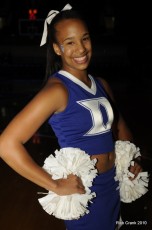 Good Monday morning Blue Devil Nation!  It's the first day of November which means we are into the meat of the football schedule while basketball begins in earnest.  It'll be a busy week ahead as recruiting heats up and Duke prepares for Virginia on the football field in Wallace Wade this Saturday and Cal Poly Pamona visits Cameron Indoor Stadium prior to that.
We'll start with basketball recruiting for the November early signing period begins on the 10th of this month and ends on the 17th.  The news broke over the weekend that Myck Kabongo had decommitted from Texas and that Duke was on his list.  The Blue Devils will get involved but it remains to be seen how this one will play out for many reasons.  One of those reasons is Quinn Cook who holds an offer but who let North Carolina in at the midnight hour adding them to his list just yesterday.  Cook grew up a fan of the school and it is no secret that Roy Williams always seems to come in later on just about every kid the Blue Devils target.  A lot of people expected Cook to give Duke a verbal already, including me, but oh how the landscape changes quickly in the world of recruiting and Duke has positioned themselves to come away with a point guard to run alongside Austin Rivers.  Michael Gbinije, Marshall Plumlee and the aforementioned Austin Rivers are all expected to sign during the early period.  More recruiting discussion can be found if you gain full site access by joining BDN Premium and that's how you can support the hard work of the BDN staff and this site.
I attended the Coach K Coaching Clinic this past weekend without the media hat on for I have a passion for coaching myself.  But it was hard not to come away having gleaned some key insight into the team itself and I can share with you that Miles Plumlee earned high praise from Krzyzewski for his practice of late.  In fact, he was mentioned on three occasions and that is a sign that he'll certainly be a main cog in the lineup early on.  The key for Miles is to stay intense for Duke and he'll once again begin the season as a sure starter.
Also mentioned was the fact that Jon Scheyer's eye injury was not a good thing in that he has apparently lost some of the vision.  Scheyer will embark on a journey to Europe soon and we'll of course keep tabs on him.  Meanwhile Brian Zoubek had some unfortunate luck as well and he is currently rehabbing at Duke after an operation on his back.  BDN's wishes these national champions a speedy recovery.
Krzyzewski also spoke of "10 standards," for this seasons team and we'll let him share that at a later date.  We can tell you that the US team had 15 standards as well, bet here is what we're getting to ... the standards act as a contract.  This carries over into a much discussed issue of social media, namely Twitter.  During ACC Operation Basketball I spoke to Krzyzewski about the standards which he'd clarify more in recent days.  I basically said that he trusts his players in that they would not go as far as kids just down the road.  Krzyzewski doesn't think that he should put but so many restrictions on his team so that they'll grow in the process both on and off the court.  In short, Duke sets forth standards which players respect and adhere to and this enables Krzyzewski to trust his players judgement and that means we''ll continue to be entertained by Nolan Smith's tweets.  And isn't it obvious that the Duke kids have not embarrassed themselves or the school?
I personally think it is crazy to hang on every single comment from Twitter via prospects every little whim, but we do like it as a tool to further our site.  That said, join BDN Twitter for we bring you an additional game experience from press row in Cameron and Wallace Wade.  If you want constant behind the scenes tidbits then sign up now and get a unique perspective.  We carried you every step of the way to the national championship last year and we hope to do so again this season.  And we promise not to tweet what we are eating  and every little thing which is not pertinent to your fandom.
Man, did the football team need a win and the victory over Navy cured some ills getting the Blue Devils back into the win column.  One cannot help but think what if Duke had defeated Maryland and Wake Forest, two games where they outplayed their opponent for they'd be 4-4 going into the UVA game.  Still, the team has a chance to end the seasons with some positives but it'll take consistent play.
Winning down the stretch for Cutcliffe's troops will also be aided by another game with no turnovers.  We see what can happen when Duke protects the ball the entire game against a Navy team coming off a victory over Notre Dame.  Turnovers have doomed the Devils more often than not this season and they'll need this to turn around against a physical Virginia team coming off a win over Miami this past week.
Lastly, thanks for your patience of late as our staff has been very busy.  We'll get fully back into the gro this month and that means max coverage of the games on the Duke Beat along with some tweaks to the site along the way.  Also, check out our Facebook site which we have not pushed with the success of BDN Twitter for there all fans can post and or add pictures there.
Lastly, for the longest time we've held out from allowing advertisers on this site but that will change in the near future.  Originally, we thought we'd give you a break from those annoying ad's which bounce off the page or force you to read them for we're dependant on memberships to fund BDN.  For several years we chose to keep advertising off to facilitate a clean look for your viewing pleasure but the additional income will go towards site maintenance and growth.  We promise to avoid those annoying ads but will be adding some which we personally approve of.  Advertisers can contact Susan in Admin or myself for more details with your needs and at this time we still have a top banner opening.    Have a great week ahead and remember we all make up the Blue Devil Nation.