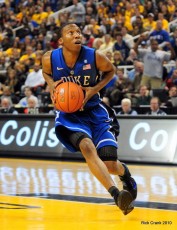 Any worries that Duke would have a let down against Miami were unfounded for these Blue Devils used a workmanlike team effort to defeat the Hurricanes  81-71  on Sunday evening.  Duke had to play without Nolan Smith for a big portion of the first half but once again Seth Curry stepped up and the rest of the Blue Devils helped Duke keep a small but working lead in the first half.
Smith's injury cast a shadow of adversity over the game, but his teammates held up, actually outscoring the home Hurricanes by 2 points in his absence.  Towards the end of the half, the ACC's leading scorer returned to the game after going to the locker room having nursed a scratched eyeball and he'd go on the lead the Blue Devils with 18 points.
The aforementioned Curry put together another fine game as well, scoring 16 points while grabbing 4 rebounds from the guard spot.  Currys improved on ball defense showed again as he had a team high 5 steals.  Senior Kyle Singler added 14 points to go with his 7 rebounds and 3 assists but the most pleasant surprise may have been the collective play of their three bigs.
Ryan Kelly, Mason and Miles Plumlee knocked down 11 of 16 shots collectively which translated into 27 points.  The Plumlee's grabbed 10 rebounds between them and Kelly and [Mason} Plumlee dished 7 assists.  It was a solid effort from all three players making this very much a team win.
The most impressive stat was a mere 9 turnovers and that of course meant that Duke protected the ball.  In fact, they allowed just three steals for their opponent and that is what you want on the road as far south as one can go in ACC play.
With the win Duke is 10-1 in the ACC and 23-2 overall.  They travel to Virginia this coming Wednesday evening in a 7:00 tip off in a game telecast by ESPN 2.
Official Team Notes: 
Duke won its 10th conference game of the season and has now reached double figures in ACC wins in four straight seasons and 19 overall seasons under head coach Mike Krzyzewski. The Blue Devils have 10 or more wins in conference play in 29 total seasons since the start of the ACC.
The Blue Devils are now 15-2 all-time against Miami and 4-1 at the BankUnited Center. They have won 11 of the 12 meetings since Miami joined the ACC prior to the 2004-05 seasons.
Duke improved to 17-0 this season when scoring at least 80 points.
It was the 10th time the Blue Devils have shot 50 percent or better in a game and are 10-0 in those contests.
The Blue Devils have outrebounded its opponent 17 times this year.
With only nine turnovers Duke has committed single digit turnover totals in 10 games this season.
Duke had assists on 12 of its 16 made field goals in the first half and shot 50 percent from the field. It is the eighth time this season they have shot 50 percent or better in the opening 20 minutes.
Player Notes:
Seth Curry
Sophomore Seth Curry returned to the starting lineup for the first time since the St. John's game. He has started in seven games this season.
Curry scored 16 points, including a team-high 13 in the first half to give him 11 double-figure scoring games this season.
He made four three-point field goals in the game and has made three or more in seven games on the year.
Curry matched a career high with five steals to give him nine multi-steal games this season and four games with three or more. He also had five against Kansas State in the championship game of the CBE Classic.
Mason Plumlee
 Sophomore Mason Plumlee recorded his eighth game this season with at least 10 points. He was 5-of-7 from the field.
Kyle Singler
Senior Kyle Singler drew his team-leading 93rd consecutive start and has now started in 135 of his 136 career games. The 135 career starts ranks third most on Duke's all-time list.
He has been a part of 116 victories at Duke which moves him into the all-time top 10 at Duke. He is now tied for seventh most on Duke's career wins list.
Singler has scored in double figures in 118 career games and an ACC-best 23 straight games. His 118 double-digit scoring games ranks third on Duke's all-time list.
With his 14 points Singler moved past Georgia Tech's Mark Price on the ACC career scoring list and now ranks 17th in league history with 2,204 career points.
Nolan Smith
Senior Nolan Smith reached double figures in scoring for the 24th time in 25 games this season. He has 83 career games with 10 or more points. He had 18 points despite playing only nine minutes in the first half after getting hit in the eye.
The five assists gives him 17 games this season with five or more.
Tyler Thornton
Freshman Tyler Thornton made 6-of-6 free throws in the final minute after only shooting six free throw attempts in the first 10 ACC games this season.