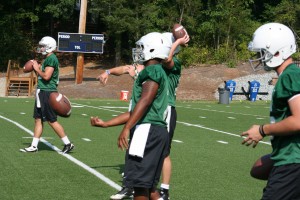 What a week! Monday afternoon, the Blue Devils hit the gridiron for their first practice of training camp. Tuesday, the football team was back at it, while the mens' basketball team held open practice in preparation for their trip to China and Dubai. Wednesday afternoon was preseason media day for Duke Football, and we followed up with coverage of football practice on Thursday and Friday. Got all that? Good. Either way, BDN has you covered with exclusive video interviews and inside analysis.
PRACTICE NOTES
BDN members have heard real-time practice updates on our message board and Twitter sites all week long, but we'll give you the cliff notes version.
Kelby Brown: all signs points to Kelby being 100% and leading the Blue Devil linebackers on September 3rd. He's had a great first week of practice, but will be brought along slowly when Duke puts on pads Friday morning. Coach Cutcliffe was pleased with the sophomore linebacker's play: "Kelby has really surprised me - well, he hasn't surprised me - that's just Kelby. What's great is that his instincts, his nose for the ball, his reaction time haven't missed a beat." BDN was on the scene and got the latest from Kelby on his knee and the 2011 Duke defense.
Blair Holliday and Jamison Crowder: every year, some players are just too good to keep off the field. Even though the Blue Devils have two "killer V" All-ACC wide receivers already on the depth chart, along with budding star Brandon Braxton (who everyone expects to have a breakout season), Holliday and Crowder have managed to turn a lot of heads so far in practice. Holliday adds length to the Blue Devil receivers, while Crowder has impressed with his speed and athleticism.
David Helton, Jared Boyd, and Tim Burton: defensively, these three players have shown flashes of their ability so far in practice. Helton could certainly be poised to contribute to a thin linebacking corps, much like freshman Kelby Brown did a year ago. Boyd and Burton will be playmakers in the Duke secondary for years to come.
Sean Renfree: Sean has taken a big step forward as a leader of the 2011 Blue Devils. After leading the Duke players in voluntary team workouts over the summer, his coaches and teammates expect the second-year starter to have a big season. With a dynamic group of receivers, tight ends, and running backs, along with an experienced offensive line, the pieces are in place for a "special" season.
Kenny Anunike and Nick Sink: while most reports out of camp have been extremely encouraging, the Blue Devils have had a few minor injuries to deal with in the first week. While the injuries have been classified as minor (primarily ankles and hamstrings), two of Duke's promising defensive linemen in Anunike and Sink are day-to-day with injuries. Anunike's absence, in particular, has opened the door for redshirt-freshmen Dezmond Johnson and Jordan DeWalt-Ondijo to earn more reps with the first and second units. Overall, Defensive Coordinator Jim Knowles classified the young defensive linemen's progress as "two steps forward and one step back."
COACH CUTCLIFFE CHATS UP BDN
Football Friday was on hand to hear Coach Cutcliffe's take on the Blue Devils' first few practices, the play of the Duke freshmen, and what he expects to see when the team puts on pads Friday morning.
RECRUITING UPDATES
The Duke staff hosted Jela Duncan on Sunday for a tour of the new facilities and meeting with Coach Cutcliffe. The speedy back out of Mallard Creek remains the Blue Devils' top priority in the class of 2012, and has repeatedly confirmed Duke as his leader. While Duke would love to see Jela pull the trigger, he plans to take his official visits this fall, meaning Duke will have to wait things out. The staff would be thrilled to close out the class with a commitment from Duncan.
The Blue Devils remain in the running for a handful of other prospects, primarily on the defensive side of the ball. Along the defensive line, Duke is staying in contact with Torey Agee, Terrell Jackson, and D.J. Reader, though the competition will be tough for all three prospects. Keilin Rayner and Jeremiah Allison remain in the mix at linebacker, though both have seen their recruitment heat up this summer. The Blue Devils would welcome any of these prospects on campus for an official visit, and of course would be excited to add them to the program later this fall.
Get ready for 2013. Yep, 2012 signing day is still months away, but Duke is in the enviable position of being able to evaluate the class of 2013 early. Starting September 1st, the staff will be able to contact high school juniors to get a jump-start on next year's recruiting class. As always, BDN will be the first to bring you updates on the early targets in the class of 2013.
MEET THE BLUE DEVILS DAY
September 3rd will be here before we know it, but it won't be the first chance for fans to get a look at the 2011 Blue Devils. Duke will host its annual Meet the Blue Devils Day on Saturday, August 20th in Wallace Wade Stadium beginning at 5:30 PM. All fans will receive a free team poster, a chance to meet the players and coaches, and a look inside the new practice facilities.
FOOTBALL FRIDAY SNEAK PEAK
No, not that kind of sneak peak. We thought maybe you couldn't wait until Meet the Blue Devils Day to get a look at the new practice facility. Here's a quick look inside:
NEXT WEEK
That's a wrap for this week. Follow us on Twitter and our Premium Message Board for live updates from training camp and all season long. WE ARE DUKE.