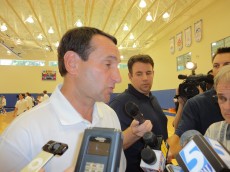 Former players and admirers are packing in Cameron Indoor Stadium as two basketball legends are being inducted into the Duke University Hall of Fame.  Moments before I spoke with Krzyzewski and Bobby Hurley in Scharf Hall as they shared memories and smiles of what is past and what's to come.  Just before they came out, former Duke quarterback Ben Bennett, also going in the Hall of Fame, was as colorful as ever, not losing one step in his mental game since he played in Durham.
As you walk outside, you see Wallace Wade Stadium readying for the invasion of the mighty Cardinal led by Heisman Trophy candidate Andrew Luck.  The scoreboard is lit up with a 3-3 score and the field is painted and ready to go.  Just up from Wade, the women's soccer team is playing Texas A & M and they just defeated them 7-2 as I type.  Over to my left, the Duke Marching Band is practicing on the adjacent field.  Music starts to blare as the men's soccer team takes to the field about to take on their rival, the Virginia Cavaliers, under a crystal clear and sunny sky.  Welcome to Duke University, folks.  Its days like this that makes one glad to be a true blue Dukie.
We'll have plenty of news coming your way in due time with plenty of comments from the three aforementioned legends going into the Hall, but, for now, I head over to the old girl, Cameron, where I will see great Duke athletes honored on what is truly a very special Duke weekend.  That said, check back for great coverage, BDN style, and come out and support the Duke Football team tomorrow for you never know what can happen, especially with spirited fans cheering them on.  Oh yeah!  And let's not forget a young basketball prospect named Mitch McGary, who is on campus for his first visit.  I have a little bit of scoop on the visit for our members of Blue Devil Nation Premium.
It's times like these when I realize I have the best job in the world.  It's a great day to be in the Gothic Wonderland. Go Duke!