The BDN Staff takes on the nation's ten toughest games to predict again this week. We are all now chasing Bob Green, who has a two game lead.  Three pick Duke to upset Wake Forest this weekend, and we all hope you turn out to root the Blue Devils on.
Current Standings
1. Bob
2. Patrick -2
3. Andrew -3
4. Guest -5
5. Mark -6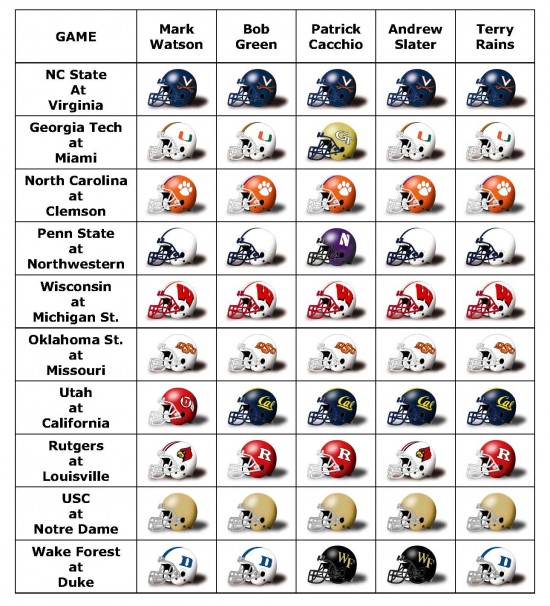 Mark Watson - The Blue Devils will get the Wake Forest monkey off their back this weekend as Sean Renfree throws for 4 TD's. The key for Duke will be to get off to a good start and protect the ball.  I think the Dukies win this one - Duke 37 Wake 34
Bob Green - Wake Forest has won 11 straight games against Duke and will arrive at Wallace Wade Stadium this week as the favorite to win number 12. The Demon Deacons have looked strong along the line of scrimmage, on both sides of the ball, in the two games I've watched them this season (Syracuse and Florida State) so Duke's linemen are going to have to step up and win the battle in the trenches if the Blue Devils are to walk off the field victorious.
At the skill positions, Tanner Price is 2nd in the ACC in Passing Yards per Game while Sean Renfree is third. Conner Vernon and Chris Givens are tied for 1st in Receptions per Game, and Donovan Varner and Michael Companaro are tied for 7th so the teams are evenly matched in the passing game. Wake's Josh Harris averages 82.4 yards on the ground, which is sixth in the ACC, while Duke doesn't have a runner in the Top 10.
Wake Forest leads the ACC in Red Zone Offense and has a plus four (+4) Turnover Margin, while Duke is dead last in Red Zone Offense and has a minus two (-2) Turnover Margin. The Blue Devils have no margin for error in this game so they must invert these two statistics by playing 60 minutes of mistake free football and take advantage of all scoring opportunites. Duke 31, Wake Forest 27
Patrick Cacchio - With 11 straight wins in the series, it'd be an understatement to say the Demon Deacons' have the Blue Devils' number. Both teams enter the game bumped and bruised and fresh off an ACC loss. Wake Forest has been the more consistent team and have done a good job taking care of the football. With a depleted offensive line, expect a light workload for Duke's running backs and quick throws from Sean Renfree. A hamstring injury to Donovan Varner will provide an opportunity for young Jamison Crowder and Blair Holliday to step up. The Blue Devil defense will have their hands full trying to stop Wake Forest's combination of Tanner Price, Chris Givens, and Josh Harris. The team that takes care of the football will emerge the victor. Wake Forest 34, Duke 31.
Andrew Slater - Although there have been several near victories (notably in 2006 and 2008), Duke is looking to end an eleven-game losing streak to the Wake Forest Demon Deacons (4-2). Wake's fifth-year senior WR Chris Givens, already with receiving yards, is on pace to break several Wake Forest receiving records. Facing the ACC's third best passing offense, Duke's banged up secondary will need to regain some confidence (currently 106th in the NCAA in pass defense) and look to contain Givens. In terms of maintaining ball possession, Wake Forest has been very disciplined this season, as they are +4 in turnover margin. In games in which Wake has lost the turnover battle under Coach Jim Grobe, they are 8-27. Thus far, QB Tanner Price has only thrown three interceptions in six games this season. Both quarterbacks have been successful through the air, with Duke averaging 297.3 yards through the air and Wake's Tanner Price averaging 267 passing yards. Last season, QB Sean Renfree was able to throw for 358 yards in a high scoring loss (54-48) to the Deacons. Although Duke certainly is capable of winning what is a "must win" for both sides, Wake should be able to narrowly prevail for yet another road victory over the Devils in the Jim Grobe era. If Duke can pull off the upset, it will help slay another dragon and gives the Devils an outside shot at its first bowl game in years. Wake Forest 31, Duke 24.
Terry Rains - I'm going out on a small limb here and predicting Duke over Wake, 31-28. I've had this game circled on my Duke FB calendar as a measuring stick for this season. A victory here would go a long way in reassuring the fanbase that a signature win (like Wake's recent win over FSU) is on the horizon. Let's Go Devils! Duke 31, Wake Forest 28.