The following is a free BDN Football Recruiting article. BDN Premium Members receive these timely and high-quality updates year-round. Join Blue Devil Nation Premium today to become a part of the online home of #dukegang. WE ARE DUKE.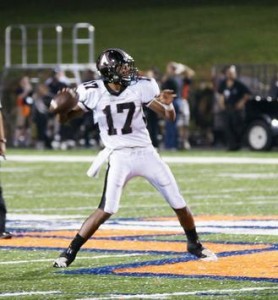 Head Coach David Cutcliffe has a well-earned reputation for developing pro-style quarterbacks, from his work with Peyton and Eli Manning, to his work with Thaddeus Lewis and Sean Renfree at Duke. With such a reputation, many fans and analysts have expected the Blue Devils to eventually land a major impact recruit at the QB position during Cutcliffe's tenure. While Duke has developed a strong group of quarterbacks on the 2012 roster, they continue to look for an impact quarterback on the recruiting trail. Coach Cutcliffe and the Blue Devils have been particularly selective when evaluating quarterback prospects, with only a select few receiving scholarship offers in each of the last two classes. In the class of 2013, one prospect has risen to the top of the Blue Devils' wish list, and is exactly the type of elite student-athlete that would have a major impact in Durham, both on and off the field.
Josh Dobbs is a 6'3" 195 pound quarterback from Alpharetta High School in the talent-rich state of Georgia. As a junior, he led Alpharetta to a 9-2 record, finishing with 3,113 passing yards and 32 touchdowns.  His accomplishments don't stop there, as Dobbs excels on the baseball diamond, where he plays shortstop and third base, as well as in the classroom, where he boasts a 4.1 GPA. With such a resume, it's not surprising that schools from the ACC, Big East, Big Ten, Big 12, PAC-12, SEC, and even the Ivy League are among Dobbs' suitors.
Included among his 15 scholarship offers is the opportunity to play both football and baseball at Duke University. Dobbs visited Durham earlier this spring to take in the baseball program, and returned on Thursday for an in-depth look at the football program and the university as a whole.  BDN caught up with the talented quarterback shortly after his visit.
BDN: You're coming off a really strong junior season at quarterback. What do you think are some of the things you do well as a QB that allow you to be so successful?
My strengths for the quarterback position, as a pro-style quarterback, I'm able to make all the throws on the field. I'm a smart kid in the classroom, taking all honors and AP classes. I'm able to pick apart defenses easily and march down the field. I'm a student of the game, watch a lot of film throughout the week and throughout the offseason in order to get ready for my opponents on Fridays.
BDN: It definitely sounds like you're a hard worker and you've been able to excel in several different areas – football, baseball, and in the classroom. How are you able to balance all of your responsibilities and maintain your high level of performance?
It's just staying determined and putting in hard work, continuing to put in the hard work. I just have a goal to continue to get better every day.
BDN: What are some of the things you're working on as you prepare for your senior season?
Well, I'm continuing to look at old film and see the mistakes from last year that I made and looking to continue to get better making my reads. Also, I'm working with my receivers to continue to get better, to be very crisp and accurate with my receivers on the field.
BDN: As you approach your recruiting process, what are the most important things you are looking for in a school?
I'm looking for a college that has high standards as far as academics and that has a major in the field I want to study, which is engineering - aeronautical engineering. From the football aspect, a university where I have the opportunity to compete at the quarterback position and the opportunity to compete in general.  Also, a place where I feel I can develop a strong relationship with the offensive coordinator.  On the social side, just a school that I feel comfortable attending.
BDN: I know that you also have opportunities to play baseball in college; is that something that's important to you and will factor into your decision?
At Duke, I have a baseball as well as a football offer, but I'm not sold on playing both. That's something I'll sit down and talk about with my parents and decide which sport at which school.
BDN: How is your recruiting process going? How many scholarship offers do you have?
Right now I'm at 15 college offers, and since school got out I've been able to visit a lot of schools that I wasn't able to visit in the spring with baseball, of course, and school. I was able to see Boston College, Arizona State, Duke, of course, again. And over my spring break I was able to visit Wake Forest and Mississippi State, as well as Duke, again.
BDN: Since it's fresh in your mind, let's talk about your visit to Duke yesterday. How did that go?
Well of course it was great to get back up to Duke. I was glad I was actually put in contact with Duke from the baseball side of things. Coach Edwin Thompson was able to see me play and this past December I was given the baseball offer and from the football side things have progressed over the spring. For my most recent visit, I was able to meet first with Coach Cutcliffe, a chance to sit down with him and just to build on the strong relationship I have with him, talk about the university in general and talk about the football program. Then I was able to get a campus tour by Ethan Johnson.  He's the Assistant Director of Football Relations. We were able to see dorms, classrooms, facilities, football facilities, academic facilities, and just get a good all-around feel of campus. Then we were able to meet with the Dean of Undergraduate Admissions, who is Mr. Guttentag. We were able to talk about class schedules from this past year and upcoming year. He was able to talk about Duke from the academic and admissions side and why I'd be a great fit at Duke. Then we were able to sit down and talk with the Director of Academic Services for the football program, Mrs. Ryan. She talked about the football schedule and how they assist their football players throughout the season and the offseason from the academic side of things. After that, I was just thankful that Dr. Kevin White, the Athletic Director, was able to make time for me and my family while we were on campus. We talked with him about the academic side as well as the athletic side, and why Duke is Duke, of course, and why Duke would be a great fit. We ended up our trip with being able to meet with Professor Donald Bliss, who is also the Director of Undergraduate Studies at the Pratt School of Engineering. He was so thorough and generous with his time; not only did he lay out the degree requirements, but he also gave us a tour of the engineering labs.
BDN: It sounds like you were able to see a lot. At this point, it's still a long time before Signing Day, but where would you say you are in the process?
As of now, we're starting to narrow things down. My goal is to have my decision made by the end of the summer, whenever that is, before my senior year starts.
BDN: With 15 offers, you have a lot of great opportunities in front of you, but are there any schools that you have just started talking to, or schools that you would like to hear from?
As of now, there really isn't. I'm just thankful for the opportunities placed in front of me as of now and to be able to see those schools this spring.
BDN: Thanks a lot, Josh, and best of luck.
Thank you, you too.
[private]
BDN Analysis
As a quarterback, Dobbs has an excellent arm. He shows good accuracy with all throws, and nice touch on deep balls. He is able to fit the ball into tight spaces and make strong, quick throws when needed. At 6'3," he has good size as a pocket passer, but is also a good enough athlete to make plays with his feet. All of his physical attributes translate well to the college game, and in particular, to Duke's spread offense. He will certainly benefit from a college strength and conditioning program. As far as his recruitment, it's a bit of a mystery as to why he was able to fly under the radar for so long. His development and exposure as a QB may have been held back slightly by his participation in baseball. In any case, his recruitment has exploded this spring, and more offers are likely to come. That being said, Duke has made a very strong impression and will be a finalist for his commitment. In speaking with Josh, it's very evident that he's a "Duke kid," meaning that he would be a great fit for the program, both on and off the field. BDN will keep in touch with Josh over the coming weeks and keep members updated on his recruitment.
[/private]
Highlights