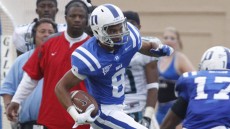 Duke wide receiver Blair Holliday, a projected starter for this season's football team, has been seriously injured in an accident.  Duke officials released the following statement: "On Wednesday, Blair Holliday was involved in a boating accident on Lake Tillery, and was transported via air to the UNC Trauma Center in Chapel Hill. He suffered head injuries and is currently in critical condition."
Duke Head Football Coach David Cutcliffe also commented on Holliday's status: "First and foremost, our thoughts and prayers are with Blair, his parents, Leslie and Rick, and the entire Holliday family. The Holliday family is one of tremendous character and strength, and is truly an inspiration for all of us. Secondly, we could not be more appreciative of the care and support Blair has received here at UNC Hospitals. The doctors, nurses and support staff have been truly outstanding . . . We ask that you continue to keep Blair and his family in your thoughts, and also respect their privacy in this time of concern."
The entire Blue Devil Nation's thoughts and prayers are with the Holliday family during this trying time, and we ask that you respect their privacy until they are ready to comment on their son's status.