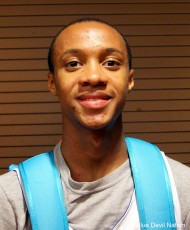 When you first see Parker Jackson-Cartwright (2014 PG , Loyola HS, Los Angeles, CA) you might immediately think, "he's too small," but despite being under 6' tall, many feel he's one of the best point guards in the land.  Cartwright is a Los Angeles product and grew up following UCLA, but he told Blue Devil Nation recently not only that his recruitment is wide open, but that he grew up loving Duke as a youngster.  I talked to several talent scouts during a recent AAU event, and most feel he has had a great summer.  Cartwright really gets after it on the court, utilizing his speed to thread his way through defenses, but he wants to make the good play and not necessarily the spectacular plays to help his team win.
Everybody talks about UCLA when they mention you in various circles.  Some say you are heavily favoring them.  Is there anything to this?
I haven't visited them recently, but UCLA will always be up there with my top schools because I grew up watching them.  But I am still open.
Which schools are showing you the most interest and or has offered? [private]
Washington.N.C. State, Arizona and most of the Pac 10 schools.
What do you like about those schools?
I'm a small guard.  I fit in that system with Coach Romar.  N.C. State has come in and offered recently, and I am getting to know their staff.  Arizona has always been a solid program and I like what they've said as well.
What are you looking for in a program?
Academics is tops and a big city, and can I live there four years. That's the big thing because I am not into transfers and such, so I need to like it.
Back to the rumor mill for a second.  Most say it will be tough to get you off the west coast.  Is their any truth to that?
Anywhere. Wherever the best fit for me is where I will be.  A lot of people have said that I would stay out west and I think that's because they see more of me this way and many on the east coast have yet to see my game.
What eastern schools have shown the most interest to date?
UConn and Georgetown. Most east coast schools have heard or think I will not leave the west coast, so they are slow to recruit me.  I'm not sure why people say that I will not leave but I do like the west coast being from Los Angeles.  But if the situation is right, I would go east.
I have heard you grew up a big Duke fan as well.  Is there any truth to this?
Like, when I was 5 or 6 years old. I mean, part of it was because their winning atmosphere and the Cameron Crazies. Their coach, Mike Krzyzewski, is a well known coach in this business. I just always thought I could play in a system like that.   I don't know, I just grew up loving them.  They were Duke.
Would you be open to them if they started to recruit you?
Of course.
What are you looking for in a school?
In a school, I just want to know if I can live there four years.  I just want it to be like a family atmosphere because I have that relationship with my high school coach and I just want to have that father-son like relationship.
Tell me something you would like people to know about you they might not know.
I have long arms.  I am only 5'8" but I have a 6'3" wing span.
Are you still growing.? You are currently listed as 5'7.5".
Yes, my Dad is 6'4" and brother is 6'3" and my sister is tall, so ...
Thanks for your time.
No problem.  Thank you. [/private]