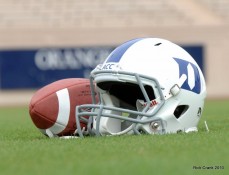 This week's Blue Devil Nation review of high school gridiron action starts with in-state verbal commit Quay Mann, who scored two touchdowns, on runs of 10 and 15 yards. Mann rushed nine times for 65 yards overall. Unfortunately, Tarboro defeated Mann's Northern Nash team 47-35. When asked for his thoughts on the game, Mann told Blue Devil Nation, "It was a good game. We kept trading leads until the very end."
Evrett Edwards' Woodbridge (Va.) Vikings defeated the Franklin County Eagles 27-7.  After the game, Edwards told Blue Devil Nation, "We played extremely well. I had a 46 yard kick return, four catches for 51 yards and three tackles."
Also in Virginia, Jake Kite caught two passes for 41 yards as Hidden Valley shut out William Byrd 10-0.
Moving on to action from Florida, quarterback T.J. Douglas of Ft. Myers High racked up some impressive statistics in a 29-12 victory over Lehigh. Douglas completed eight of 14 passes for 135 yards, while scoring twice on one-yard runs. Douglas's eight completions went to seven different receivers.
Also in the Ft. Myers area, Dunbar defeated East Lee County 45-0. Cornerback Johnell Barnes commented, "We started off a little slow, but in the second half we came out and dominated."
In Jacksonville, quarterback Parker Boehme and Sandalwood defeated Baldwin 48-20. Boehme is #12 in these video highlights. This season preview states there are great expectations for Sandalwood this season.