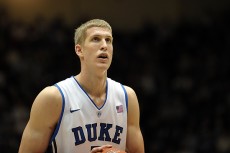 DURHAM, N.C. -- Tickets for the 2012 State Farm Champions Classic will go on sale Monday, Oct. 1. The second annual event will be played Tuesday, Nov. 13, at the Georgia Dome in Atlanta. The State Farm Champions Classic features an ESPN doubleheader of Kansas vs. Michigan State at 7 p.m., followed by Duke vs. Kentucky at 9:30 p.m.
Ticket prices are $125, $90 and $75 and can be purchased at Ticketmaster.com, by calling Ticketmaster at 1-800-745-3000 or by visiting the Georgia Dome box office (open Mon.-Fri. from 9 a.m. – 5 p.m.).
The four teams playing in the State Farm Champions Classic have combined for 18 NCAA Championship titles, with each winning one in the last five years. In the inaugural event last November at Madison Square Garden in New York City, Kentucky defeated Kansas, 75-65, and Duke beat Michigan State, 74-69. That game elevated Duke head coach Mike Krzyzewski past Bobby Knight for most Division I wins by a coach.
For more information about the State Farm Champions Classic, visit the official web site at TheChampionsClassic.com, follow on Twitter @ChampionClassic and "Like" the event on Facebook at Facebook.com/ChampionsClassic.