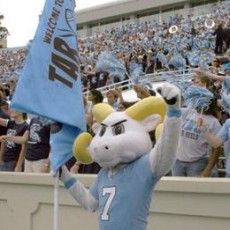 The Blue Devils remain just one win away from bowl eligibility for the first time since 1994, and will look to get that victory on Saturday as they host their archrival, the North Carolina Tar Heels. Under first year head coach Larry Fedora, the Tar Heels have won four games in a row and now sit at 5-2 overall.
To give an inside look at the UNC program, BDN welcomes in Harold Gutmann, the Tar Heels' beat reporter for the Herald-Sun. In the interest of full disclosure, Harold is a Duke University graduate, and thus has a unique perspective on the greatest rivalry in college sports. Harold also spent seven years as a reporter at The Journal News, a New York City-area Gannett paper, where he won the 2005 Mighty Pen Award for a series of features leading up to the New York City marathon. He has worked across all kinds of media platforms — his hockey blog recorded almost 40,000 page views a week, he developed podcasts and video blogs, and he hosted an online weekly interview show. Harold is the state beat writer for MaxPreps, a national website about high school sports, and has contributed to ESPN.com, NCAA.com, GoDuke.com and AOL's Patch.com. He works as an editor for the Center for Faculty Excellence at UNC.
Needless to say, we are thrilled to welcome a Duke alumnus to give us his take on this year's fight for the Victory Bell.
It seems like there are two opposing forces pulling at UNC Football: the old - a bowl ban, scholarship losses, NCAA investigation, Butch Davis, and an academic scandal; and the new - Coach Fedora and his staff. From the outside, it looks like the players and fans end up caught in the middle. What have been the major effects of the NCAA sanctions and the new coaching staff that you've seen on the UNC program? With a postseason ban hanging over them, what are the expectations for the 2012 Tar Heels?
I haven't seen many effects of the sanctions on this team, and I haven't noticed a lack of motivation because of the bowl ban. Would they be 6-1 or 7-0 otherwise? We'll never know, but I sincerely doubt it. I think the two losses were more due to 1) Giovani Bernard's absence, and 2) getting used to the new systems. Negative effects may come down the road when the scholarship deductions cut into their depth.
The sanctions are probably felt more by the fans. I've been on the beat two years and still haven't seen a sold-out Kenan Stadium. Conventional wisdom was that Fedora's exciting style of play would energize the fan base, but that hasn't translated into higher attendance yet.
For those who live locally, they've heard about Coach Fedora and his fast-break football. What, exactly, does that mean? The Tar Heels are on an offensive roll of late, but slipped up against Wake Forest and Louisville. How have teams been successful at slowing Gio Bernard and Bryn Renner?
Fedora wants his offense to snap the ball as soon as it's placed down by the official -- as if they're running a 2-minute offense for the entire 60 minutes. The team ran 84 plays last week against Miami, their most in a regulation game since 2000. They're averaging about 75, which is 10 fewer than Fedora's ideal number, but 12.5 more than the team averaged last season. Also half of the scoring drives (22/44) have taken less than two minutes.
I think going in no one expected the players to make a perfect transition from Butch Davis's pro-style system to Fedora no-huddle spread, and the 62-0 season opener against Elon might have been a bit misleading. But after struggling against Wake and in the first half against Louisville, the offense has really hit its stride. Even against Miami last week UNC only had 18 points, but it got 30 first downs and just had trouble capitalizing in the red zone (two missed field goals and an INT).
As far as slowing down Gio, it hasn't happened yet. UNC is 5-0 when he plays, and he's been great in every game. TDs three different ways against Elon, two TDs against ECU, two TDs on two carries against Idaho, 262 yards against VT and 189 yards and two TDs against Miami. Renner is still mistake-prone but he's been down to three scholarship receivers for most of the season, so I think he's done well under the circumstances.
North Carolina has produced some very good defensive players over the years, but one of the knocks on Coach Fedora has been that he's seen primarily as an offensive football coach. What are the strengths and weaknesses of his defensive system? How good is this Tar Heel defense, which held an explosive Miami offense to just 14 points last Saturday?
The defense gets lost in all the talk about Fedora's offense, but they're just as good, if not better. The 4-2-5 (which Duke fans are familiar with) is meant to be versatile, fast, and create turnovers (UNC has forced 16 and leads the ACC in turnover margin). Fedora may be an offensive coach, but he nabbed Vic Koenning, who proved he could manage a successful ACC defense when he was the Clemson DC from 2005-08.
The defense still has a lot of the NFL-level talent that Butch Davis recruited -- guys like end Kareem Martin (10 tackles for loss) and tackle Sylvester Williams (five sacks), who should continue UNC's recent run of high draft picks from the line. Linebacker Kevin Reddick was also a preseason all-ACC selection and his play has backed up that honor so far.
The weakness would have to be the secondary, which still has too many missed assignments and blown coverages. Tanner Price and Logan Thomas both set career highs for passing against UNC. For Duke to have a chance, it has to take advantage of this.
The Victory Bell has made itself a home in Chapel Hill over most of the last decade, but for the first time in a long time, this game means more than just the rivalry. Both teams enter Saturday's game at 5-2 and 2-1 in the ACC; Duke needs just one win to become bowl eligible for the first time since 1994. The Blue Devils and Tar Heels have shown they can put up a lot of points over the first half of their seasons. How do you think the two teams match up on Saturday, and what do you expect to be the result?
I think Duke has a lot to be proud of, but it still hasn't shown it can beat a winning (FBS) football team. The way that it was manhandled at the line of scrimmage by Stanford and Virginia Tech would worry me if I'm a Duke fan. UNC has one of the best offensive lines in the country and it's going to be hard for Duke to win that battle. Renner's only been sacked four times all season, and Bernard ran through Virginia Tech and Miami, so it's hard to think that Duke will generate enough pressure on Renner or contain Bernard enough to stop UNC's offense.
This may be Duke's best shot in a while -- UNC is still adjusting to Fedora's new systems (and doing it with personnel that was recruited to fit the old systems), plus the Heels don't have postseason play to motivate them. By beating Wake, Duke also showed that it's capable of ending long losing streaks this season. Still, I've seen so many UNC wins in this series that it's hard to expect a different result until I see it in person.