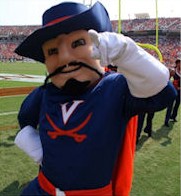 Duke (4-1, 1-0 ACC) has an opportunity to pull within one game of bowl eligibility as they host the Virginia Cavaliers (2-3, 0-1 ACC) on Saturday at 3:00 PM in Durham. The Blue Devils are riding a 3-game winning streak, while UVA is coming off three straight losses. After a 2011 season that saw them challenge for the ACC Coastal Division crown and finish 8-5, the Wahoos are off to a disappointing 2-3 start in 2012. As we do each week, BDN brings in a resident expert to give us an inside look at the opponent.
This week, we are honored to have Jerry Ratcliffe of The Daily Progress in Charlottesville join us for our opponent scouting report. Known to many as simply "Hootie," Ratcliffe came to The Daily Progress in 1982 as sports editor and columnist. He has served as the sports editor of six daily newspapers during his career. His work has been recognized by the Associate Press Sports Editors Association, the College Football Writers Association, the U.S. Basketball Writers Association and the Virginia Press Association as well as the Middle Atlantic PGA (recipient of the Earle Hellen Award in 2007). Ratcliffe has won more than 55 writing awards, including the most recent, first place nationally in the APSE writing contest, which he shared with Whitey Reid on a basketball recruiting project. Ratcliffe has served as president of the Atlantic Coast Sports Media Association and has penned one book: The University of Virginia Football Vault, a history of the Cavaliers program. He has been named the state of Virginia "Sportswriter of the Year" on four occasions by the National Sportswriters and Sportscasters Association.
Not only an outstanding journalist and editor, Jerry is one of the top authorities on Virginia football. We are so glad to have his help this week!
Virginia lost ten starters from last year's surprising 8-5 team. What were the expectations coming into the season for the Cavaliers? What have been the primary concerns during their 2-3 start in Mike London's 3rd season in Charlottesville?
I think most of the media's expectations, at least the writers who cover the team and those who follow ACC football strongly, differed from that of UVa's fans. Seemed as if most anytime I was asked over the spring and summer what I thought about Virginia's prospects and I answered, "worst case 5-7, should be very happy with 6-6, best case 7-5," I was greeted with moans.
It seemed as if UVa fans expected to be at least as good as last year's surprising 8-5 record, which I will admit, even surprised me. I never expected them to win on the road at Miami and Florida State. I think Mike London, as exhuberent a coach as he is, didn't help himself by talking about how the team hoped to feed off last year's momentum, that once you've tasted a season like that ... you want more. Instead, I think he should have dwelled on how much he lost from last year's team and how the nonconference schedule was much harder than last year's (Penn State, TCU, Louisiana Tech) and that he hoped to just find some way of getting back to a bowl this season, even if it meant breaking even at 6-6.
As far as the primary concerns in getting off to a 2-3 start, they are somewhat surprising in some aspects, totally expected in others. We knew the defense would be a problem because it lost essentially seven starters that included several players who made NFL rosters (Chase Minnifield, Cam Johnson, Matt Conrath, Rodney McLeod). This defense, particularly the secondary, has been shaky. The kicking game featured new guys in all three areas: kickoff, placements and punts, and all three have been fairly steady considering. What no one anticipated was how much the offense, which had most of its guys back, has really sputtered until last Saturday. Teams have simply loaded up the box with 8-man fronts and dared UVa to throw, which it hadn't done so well, again,until Saturday.
One of the positions where the Cavaliers did return a starter was quarterback, with junior Michael Rocco expected to build upon last year's 2,671 yards and 13 touchdowns. However, that hasn't been the case, as Rocco has just 6 touchdowns to 8 interceptions through 5 games. After throwing 3 interceptions last week against Middle Tennessee, Rocco was pulled in favor of Alabama transfer Phillip Sims, who nearly rallied the Cavs to victory. Is it safe to say that Virginia has a quarterback controversy? What is your assessment of the two quarterbacks?
Yes, Virginia has a full-blown quarterback controversy. The most vocal wanted Sims to start last week vs. LA Tech, but it looks like he will start at Duke if his leg is OK. I suspect nothing will stop Sims from getting his first start. I clearly thought Rocco should have started the season. He had experience, knew the offense, had executed it well (particularly the second half of last season) and was on the same brain waves as OC Bill Lazor (who is very good by the way). However, once Sims caught up in the knowledge department and timing, there's no question he throws a better ball: faster release, crisper, more velocity, tight spiral. At least London goes into games knowing he has two pretty good guys he can rely on.
Coming off a 2011 season where their defense ranked in the top third of the ACC in almost every statistical category, Virginia ranks in the bottom third of the ACC so far in 2012. In addition to giving up yards and points, the Wahoos are in the bottom 10 in the country in sacks and tackles for loss. What has been the cause of the defensive struggles? Which players do you expect to see step up over the second half of the season?
UVa's defensive woes are simple to explain. The Cavaliers lost too many good players and the ones who are there to replace them just don't have much experience. In my opinion, UVa's linebackers are slow and have trouble on mismatches in the passing game. The secondary is VERY young, four sophomores starting (three for the first year). Backups are freshmen. They're feeling their way. There really hasn't been much pass rush, although Virginia finished No. 90 in the nation last year in sacks and are even worse this year thus far. Prior to the season DC Jim Reid said his goal was to find a way to make the younger players perform a year above their class and so far that hasn't happened. As the season advances, they are hoping true prize freshmen DE, Eli Harold (a speed rusher) and Mike Moore (son of famed UVa QB Shawn Moore) will give them a pass rush. I belive free safety Anthony Harris will advance quickly and perhaps Maurice Canady, a true freshman backup corner with a lot of potential. Overall, I think this is going to be a mediocre to bad year for Virginia defense.
Over the past few years, the Blue Devils and Cavaliers have played some memorable, hard-fought games. With both teams looking to rebuild their programs and compete in the ACC, it appears that this renewed rivalry will only grow stronger. What are the perspectives of Virginia's fans, players, and coaches with regards to playing Duke?
The UVa-Duke series has been a good one and I imagine that will continue this year and into the future as Coach Cutcliffe continues to build the program. I like what he has done at Duke and I think he's an excellent coach (I've always felt like Southern coaches added something special to the game). It's difficult to gauge how fans, players and coaches perceive this series. While UVa-UNC used to be THE rivalry for the Cavaliers, I think that has faded somewhat in favor of UVa-Virginia Tech. The UVa-Maryland series has gained some status mostly because Al Groh and Ralph Friedgen had no love for one another. While the Duke and Virginia games have been hard fought and there's been some chippieness (Minnifield got a little too emotional last year), I still don't see this series as being viewed as a huge rivalry just because of the fans' emphasis on the aformentioned games. Still, Virginia should consider this a huge game because it may very well determine whether it goes to a bowl game or not, perhaps in the same light as Duke. Besides, Duke had won three in a row until last year and has won the last two in Durham.
Having snapped a 12-year losing streak to Wake Forest last week, the Blue Devils are flying high at 4-1 heading into Saturday afternoon's game with Virginia. With a tough second half schedule that includes both Florida State and Clemson, many feel this is a must-win game for Duke to have a chance at bowl eligibility. Obviously, Virginia will be equally motivated as they try to turn their season around after three straight losses. How do you expect Saturday's game between the Blue Devils and Cavaliers to play out?
I think Saturday's game is going to be a bloodbath. Both teams desperately need this game. In a way, their whole season(s) depend on this game's outcome. From a fan's standpoint, I'm expecting this to be a really good game, perhaps a thriller-diller, and good TV. If it's not, I will be surprised. Virginia's backs are against the wall and they're shuffling lineups a bit, challenging starters this week, changing quarterbacks. Seems to me, they're pulling out all stops to win this game. Duke has been playing well and I guess from the outside, most would say the Blue Devils have beaten the people they're supposed to have beaten, although some thought Wake would win last week. I think this game has all the makings of a terrific game. Personally, I would think Duke has to be favored. I haven't seen a line yet, but if the Devils aren't favored by say, 3 to 5 points, I would be surprised.