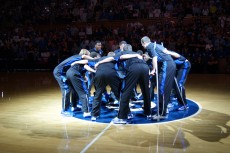 The Duke Blue Devils open the 2012-13 basketball season tonight when they entertain Georgia State in Cameron Indoor Stadium. Tip is at 7 PM, and the game will be televised by ESPNU. A few quick numbers: Duke starts the season ranked #8 in the pre-season poll and they've won their last twelve openers. Duke is 39-3 versus teams from the Colonial Athletic Association, though this will be the first-ever meeting between Duke and Georgia State. The Blue Devils have won 94 straight games in Cameron over non-conference teams. The game will also mark the 1219th game for Duke Coach Mike Krzyzewski, who begins his 33rd season in Durham.
About the opponent
Georgia State Coach Ron Hunter led his team to a 22-12 record a season ago, the second most in school history. Duke alum and former Maryland coach "Lefty" Driesell won 29 in 2001 in leading the Panthers to the NCAA tournament, and even won a game in that tournament. Devonta White made second team All-CAA a year ago and he is expected to lead the Panthers this season as well. White comes into the Duke game riding a streak of 19 consecutive free throws dating back to last season. This year's squad will also feature true freshman R.J. Hunter, the son of the coach.
Their play in two exhibition games gives the Panthers reason for optimism heading into Cameron this evening. They defeated Life 85-62 as Hunter scored 30 points and grabbed 8 rebounds.  The coach's son then dropped 22 more on Albany State in a  80-60 Georgia State win.  The Panthers will employ a three guard offense at times, but the expected starters will be the aforementioned White and Hunter in the backcourt with Manny Atkins, Markus Coker and James Vincent up front.  But several reserves saw meaningful action in the exhibition games and are expected to do the same tonight. White has been selected to the pre-season All-CAA team.
Georgia State loves the three ball as does Duke, and they like to play defense too. Their 315 steals a season ago was the second most in school history, as four players had 50 or more. The Panthers have made at least one three-point shot in their last 515 games,
On the Duke side
Duke will look a little different than a season ago. Gone are Austin Rivers and Miles Plumlee to the NBA, and Andre Dawkins, whose shooting was critical in several early wins a year ago, will redshirt this season. True freshmen Amile Jefferson and Rasheed Sulaimon are in the mix, along with redshirt freshmen Marshall Plumlee and Alex Murphy. The injured Plumlee is not expected to return for this game, but could possibly be in uniform for next week's clash with Kentucky, depending on how things go,
The Blue Devils were not overly impressive in their two exhibition games, though to be fair, it was obvious that Coach Mike Krzyzewski was still feeling his team out. It had appeared that Duke would start Alex Murphy at small forward, but Rasheed Sulaimon has since been named a starter in a  three guard lineup.  Seth Curry has struggled with a lingering leg injury, but should get the start alongside Quinn Cook, Ryan Kelly and Mason Plumlee. Duke will surely play a lot of players this evening, so most everyone will get a chance to contribute against what could be a very pesky opponent.
The Blue Devils should be able to control things in the paint, but rebounding was the main concern against smaller opponents in the pre-season.  However, the team will likely bring a different level of intensity to tonight's game, so making too much of exhibition game statistics would probably be a mistake. One of the stats I'm referring to is the Blue Devils shooting 1 of 17 from the three-point stripe in the last exhibition game, a performance I do not expect to be repeated.
I look for Duke to try and shut down the two Georgia State players that can most hurt them in backcourt mates R.J. Hunter and Devonta White. Rasheed Sulaimon will have a tough defensive assignment right out of the gate, and it will be fun to watch how he responds to the challenge. I think Duke will go low to Mason Plumlee a lot as they try to establish his dominance in the paint.
It will also be important that Duke does not look ahead to Kentucky, who awaits the Devils in the State Farm Classic this coming Tuesday.  That is not exactly an easy thing to do. But for now, the Blue Devils should get off to a 1-0 start and by evening's end we'll have a lot more to talk about. Be sure to check into Blue Devil Nation for press row tweets from Cameron, post game coverage with videos and photos, and of course for full site access, join BDN Premium, our extended subscription service.
The pick
Duke may take a few minutes to adjust, but I expect you'll see intensity right out of the gate.  Look for Coach K to continue to tinker with his lineups and combinations.  The pick here is Duke 87, Georgia State 64
Duke Basketball. It's back!