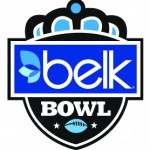 Duke vs. Cincinnati
6:30 PM ET
Thursday, December 27
Bank of America Stadium
Charlotte, North Carolina
TV: ESPN
Radio: Blue Devil IMG Sports Network
Duke: 6-6 (3-5 ACC)
Cincinnati: 9-3 (5-2 Big East)
DUKE PLAYERS TO WATCH
QB Sean Renfree - 250.9 passing yards per game, 18 touchdowns, 8 interceptions
WR Conner Vernon - 79.6 receiving yards per game, 7 touchdowns
WR Jamison Crowder - 85.8 receiving yards per game, 8 touchdowns
RB Jela Duncan - 5.2 yards per carry, 4 touchdowns
QB/FB/TE Brandon Connette - 7 rushing touchdowns, 2 passing touchdowns, 1 receiving touchdown
CB Ross Cockrell - 63 tackles, 12 pass break-ups, 5 interceptions
DE Kenny Anunike - 42 tackles, 5 sacks
S Walt Canty - 102 tackles, 5.5 tackles for loss, 1 interception, 1 fumble recovery
S Jordon Byas - 80 tackles, 6 tackles for loss, 2 interceptions
P Will Monday - 44.1 yards/punt, 18 punts inside 20
K Ross Martin - 18/20 field goals, long 50 yards, 44/44 PATs
CINCINNATI PLAYERS TO WATCH
RB George Wynn - 5.3 yards per carry, 100.3 rushing yards per game, 12 touchdowns
QB Brendon Kay - 96.6 passing yards per game, 6 touchdowns, 2 interceptions
TE Travis Kelce - 15.0 yards per reception, 49.9 receiving yards per game, 7 touchdowns
WR Kenbrell Thompkins - 16.3 yards per reception, 43.6 receiving yards per game, 2 touchdowns
LB Greg Blair - 123 tackles, 8.5 tackles for loss, 2 interceptions
DE Dan Giordano - 51 tackles, 5 sacks, 2 fumble recoveries
DB Cameron Cheatham - 47 tackles, 5 pass break-ups, 3 interceptions
P Pat O'Donnell - 42 yards/punt, 23 punts inside 20
K Tony Miliano - 15/20 field goals, long 47 yards, 45/47 PATs
HOW DUKE CAN WIN
The Blue Devils will be hungry for their first bowl game, and they will have to come out with intensity and be the aggressor in this game. The Bearcats have relied on a stingy defense and a strong running game to earn themselves a share of the Big East title this year. The keys to a Blue Devil victory will be a balanced offensive attack with efficient red zone execution. Few Big East offenses have the weapons that Sean Renfree possesses, and the Bearcats do give up their share of yards through the air. Look for senior receivers Conner Vernon and Desmond Scott to have big games in their first bowl action as they cap off tremendous Blue Devil careers. Their effectiveness should open things up for Jamison Crowder to make big plays down the field. The Blue Devils' offensive line will be the healthiest it has been all season, and their play will go a long way in determining the outcome of this game. Duke has to control the line of scrimmage and keep Sean Renfree on his feet. Led by star freshman Jela Duncan, the Blue Devil ground game has to be effective enough to keep the Bearcat defense honest, but don't expect any huge days for Duke running backs against a tough Cincinnati front seven. Defensively, it all starts and ends with George Wynn. In losses against Toledo, Louisville, and Rutgers, Wynn was kept out of the end zone, and the Blue Devils will have to do the same on Thursday night if they hope to pull off the upset victory.
HOW CINCINNATI CAN WIN
With all of the changes surrounding their program since their last game, the most important keys for a Cincinnati victory will be focus and intensity. The Bearcats' defense will look to make the Blue Devils' high scoring offense one-dimensional by eliminating the ground game. Giordano and Blair will look to pressure Sean Renfree before his dangerous receivers can find space downfield. We've all seen this Duke team fall flat when the offensive line struggles, and if Cincinnati is able to dominate the line of scrimmage, it will be a long night in Charlotte for the Blue Devils. The Bearcats will look to win the field position battle, take an early lead, and grind it out behind their strong offensive line and star senior running back and tight end.
WHY DUKE WILL WIN
The last time Duke played in a bowl game? 1995. The last time the Blue Devils won a bowl game? 1961. This team should be hungry for a bowl victory, and they will have to come out and play like it. An early lead would be a big boost for a team that has dropped four games in a row after a 6-2 start. Similarly, an early lead may take the fight out of a fragile Cincinnati team abandoned by their head coach. The Blue Devils are a one touchdown underdog in this matchup, and they'll have to play good football to win: win the turnover battle, execute on 3rd down, and minimize explosive plays, which has haunted them all year. Led by their freshmen All-Americans Will Monday and Ross Martin, Duke's special teams has to make big plays to keep the momentum away from the Bearcats. In the end, this game means too much to an outstanding group of Blue Devil seniors to let this opportunity pass them by. Duke puts together an inspired performance to cap off an inspiring season and become 2012 Belk Bowl Champions. Duke 24, Cincinnati 20