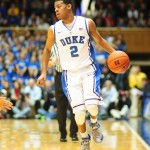 The Duke Blue Devils held Clemson to 10 points and 12% shooting in the first half, and that stellar defensive effort keyed their 68-40 cruise past the Tigers on Tuesday evening in Cameron Indoor Stadium.
It was a good win, just not a pretty one
Watching the first half was brutal, as the refs let Duke and Clemson play physical basketball, ending with the two teams going to the locker room with a 25-10 score in Duke's favor.  The Tigers have a way of getting teams to play in those ugly kind of games.  While it was not pretty basketball, how do you complain about holding a team to 10 points in a half and 40 for a full game in ACC play? You don't. The Blue Devils made it tough for Clemson to score all evening long and the inevitable happened, as the Blue Devils pulled away down the stretch for a nice 28 point win, pushing their record to 2-0 in the ACC and 15-0 overall.
Incredible game from Quinn Cook
As many of you know, Quinn Cook was coming off an O-for-everything from the field in the Wake Forest game.  "You obviously think about it but the next time you're at practice you have to move on. Great shooters always move on to the next shot," said Cook when asked about his last performance.
Tonight he responded with a 27 point effort, his career high at Duke, breaking down the defense at will in the second half.  Cook played an all-court game, garnering 5 rebounds and dishing out 5 assists to go with 4 steals. It was his best game in a Duke uniform.  Cook is still learning the PG position at Duke, which is likely quite scary to opposing coaches after tonight's game.  Of course Coach K had to remind everyone that Quinn had 14 assists versus Wake Forest and joked that he could not pass to himself.  Cook was propped on Twitter by former Duke standout Nolan Smith, and added in the post-game that he had heard from others as well, congratulating him on the great game.
Ryan Kelly injured
Ryan Kelly hurt his foot again in the game and sat out the second half for precautionary reasons.  The versatile forward still finished the game with 12 points and was the only Blue Devil besides Cook to score in double figures.  According to Coach Krzyzewski, he will have an MRI and whatever else is necessary tomorrow, and they will release the result shortly after it is known. Kelly is questionable for the N.C. State game on Saturday.
Mason Plumlee just shy of a double-double
Mason Plumlee scored 8 points and grabbed a team high 13 rebounds, falling just short of another double-double, although he still leads the ACC in that category. Mason has led or tied for the team lead in rebounding in every game this season. When Coach Krzyzewski was questioned about Mason's offensive struggles in the last few games, he noted that teams are playing him differently, and that Mason had just matched up with one of the ACC's better players in Devin Booker, calling their play against each other a wash.
Notes
Cook was the fourth Duke player to score 20 or more points in a game this season.
Duke outscored Clemson in the paint by a 34-26 margin. The Blue Devils had 19 points off turnovers to the Tigers 7, and the Duke bench outscored Clemson 11-8. Duke shot 72% from the field in the 2nd half after hitting 29% in the 1st. Duke won the rebounding battle by a 42-31 margin.
The 10 points scored by Clemson in the first half was the second lowest total in the Coach K era.  Duke's three seniors -- Ryan Kelly, Mason Plumlee and Seth Curry -- combined for a season-low 28 points.
Curry scored his 1000th point in a Duke uniform. Mason Plumlee reached the plateau versus Santa Clara earlier this season.
Duke improved to 213-31 playing as the #1 ranked team in the nation.
Duke played its 191st straight game as a top 10 team.
Duke is now 14-0 for the sixth time in school history.
Next time out
Duke will travel down to road to Raleigh to take on N.C. State on Saturday in a high noon showdown. They are the only ACC teams ranked in the Top 25 at the moment.  The Wolfpack was the pre-season choice by the media to win the league.