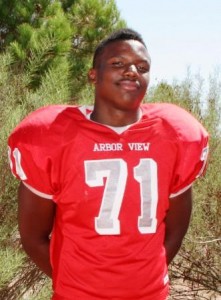 The Blue Devils will host a pair of Las Vegas prospects this weekend on official visits. Yesterday, we profiled WR Ryan Smith, who has the Blue Devils at the top of his list. Today, we check in with OL Elijah George, who will take his first official visit to Duke this weekend. At 6'6" and 240 pounds with a sub 5-second 40-yard time, George is one of the top uncommitted offensive line prospects in the country. BDN first introduced Duke fans to George last spring, when the Blue Devils were among the first to offer the rising senior. Since that time, George has remained low-key in his recruiting process, but has picked up offers from a number of PAC-12 and other FBS programs.
How did your senior season go?
We went 10 and 1.
How did you play and what was your role on the team this year?
I played good.  My role in the offense is like-- we have team captains and one of my roles as the captain, you know, just make sure we don't give up anything.  That's my main goal.
What kind of offense does your high school run?
Mostly running, like 95 percent running and 5 percent pass.
Can you talk a little about how your recruitment has gone since we spoke last year? What schools are recruiting you the hardest?
Well, it's been Duke, San Diego State, and some other schools that have been recruiting me hardest, but just taking it slow and just going to go make visits and enjoy it.
What have you been hearing from Duke?
Coach Lubick has been recruiting me. It's a cool program. It's like a beginning program. I know that they're not, the football program at Duke as big as basketball. They have a goal to get to that level. That's what I like.
Did you get a chance to see Duke play at all this year?
Over here they don't really show East Coast teams that much and I like their offense, but since they don't play over here that much, I wasn't able to study it more.
I know you have a visit scheduled to Duke this weekend. Have you had a chance to visit any other schools?
This will be my first visit.
What will you be looking for on your visit to Duke?
What could they offer me for the next four years, and what kind of people they are and just how it's like for the average player. Are they achieving their goals for the football program and for their players? Things like that.
Do you know when you want to make your final decision?
I'll probably make it the day before signing day or a couple days before.