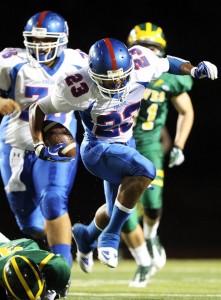 The Blue Devils received a New Year's present with the commitment of Folsom safety Phillip Carter at the start of 2013. After initially committing to San Jose State, the California star opened things back up after the departure of Head Coach Mike MacIntyre to Colorado. Coach Lubick led the Blue Devils' recruitment of Carter, who will play safety in Coach Knowle's 4-2-5 defense in Durham. BDN spoke with the newest Blue Devil commit shortly before his trip to Durham this weekend.
How did your senior season go?
Yeah, obviously I go to Folsom High School, we went 14 and 1 this year, we lost to De La Salle, one of the best teams in the country. We had a successful year, won section championship, and league championship. I play receiver and strong safety and offensively, actually the first game of the season I had an 10 receptions for 317 yards and five touchdowns just in one game. That was pretty good and then I ended the year with sixty something receptions with almost 700 yards and I think 12 touchdowns and then on defense I had 90 total tackles, 2 interceptions, 10 pass break-ups, those are the main facts. Just being a senior on the team, I felt I had to like step up my game from last year and I really improved and became a better leader as well.
You did a little bit of everything in high school; where do college coaches see you playing?
I think the consensus is that they see me as safety, but there has been colleges that put me as receiver or both, like San Jose State, Harvard, Yale, Northern Arizona, they recruited me as both. Basically as an athlete I can play either side of the ball, but Duke sees me as a safety, and they've already been talking to me about defensive stuff, and stuff about safety.
You committed to San Jose State early in your recruiting process. Can you talk a little about that decision and how your recruiting process has gone overall?
My early interest came from the Ivy league schools like Harvard and Yale. I took a visit out there during the summer and visited the campuses and stuff. I would have chosen Harvard over Yale but Harvard didn't really have the major that I want, which is civil engineering. So then I just waited that out and other schools came like, Air Force, Army and Northern Arizona and San Jose State. I committed to them because I like the coaching staff.  Then Coach MacIntyre left for the Colorado job and took most of his staff with him and I am left like kind of in shock a little bit, then I kind of reopened my recruiting options. Luckily one of my coaches on the high school team, my position coach, knows Coach Lubick, he got in contact with Coach Lubick and told him about me and then Coach Lubick started recruiting me and that's how I ended up here.
What do you know about the Duke football program and the university itself?
I know that, Duke is definitely one of the top schools in the country, in a lot of the majors and fields that they have. I think like top ten in almost, in a lot of them. I know that they are academically, and I did see the Belk Bowl against Cincinnati and I did watch that game. I know were they're worldwide.
I know that this late in the recruiting process, things can get stressful. Where do things stand with your commitment to Duke? Are other schools still talking to you?
Definitely 100% to Duke. There is a little bit of business this weekend and I am excited for that. People have already, I think I got like twenty new followers on Twitter just all affiliated with Duke so I really like that they are making me feel comfortable. Their blogs were talking about all my highlights and giving me compliments.  I feel really good about Duke.
It sounds like Duke fans are excited to see you play. Do you have anything else you want them to know about you?
Academically they can know that, I want to be a civil engineer and that I have been a really good student most of my life. I don't really do any off field the stuff other than like hang out with friends.