Maybe there was something in the water. Or maybe Rasheed Sulaimon was tired of hearing how Boston College's Olivier Hanlan was the odds on favorite for ACC freshman of the year.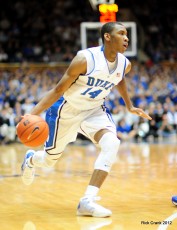 Whatever it was, Duke's freshman starter bounced onto the court looking like he had something to prove.
The rest of Duke's team seemed a tad sluggish in the first few minutes of the game. Until the first media timeout, that is, when Coach Mike Krzyzewski lit into his torpid squad for the entire commercial break. After that, it was scary, at least for Boston College. Duke ripped off twelve points in a row to lead 15 to 5, followed by an 11 to 4 run, followed by 19 to 10. BC scored the last four points of the half but Duke still held a commanding 51-27 lead at the intermission.
In the first game between the teams, just two weeks ago, it seemed like the Eagles triple-teamed Mason Plumlee every time he touched the ball. At Cameron, BC often doubled Plumlee, but didn't pay him quite as much attention as they did in Chestnut Hill. Perhaps they should have, however, because Mason dominated early, scoring 8 of Duke's first 17 points. I guess you could say he dominated late, too, as Plumlee ended the game with 19 points and 15 rebounds. He also led Duke in assists for the second straight game. Since his subpar performance at Maryland, Mason has averaged 16 points per game, 13.5 rebounds, 4.5 asists, 2.0 blocks, and 1.0 steals, on 61.5% shooting from the field and 76.2% from the free throw line.
Meanwhile, on defense Sulaimon was smothering BC's second leading scorer Hanlan. The BC guard didn't score his first point until 14+ minutes had been played, and by that time Duke already sported an 18 point lead. Hanlan's jumper was BC's fifth basket of the day, compared to 10 turnovers at that point. Overall, Duke forced 13 first half turnovers, 16 for the game.
Duke's first half offense was even better, as the team had five guys with eight or more points at the half. Sulaimon led all scorers with 15 first half points, and Amile Jefferson and Quinn Cook both scored 10 in the opening period. Mason Plumlee and Seth Curry each chipped in 8.
A Duke defensive breakdown allowed BC's Ryan Anderson to score at the first half buzzer, and that bit of lackadaisical play on Duke's part seemed to carry into the second half. Duke stopped forcing as many turnovers and allowed BC to shoot almost 54% in the second half. Still, Duke stretched the lead to 31, biggest of the game, with 14 minutes to play.
At that point, Quinn Cook fell and turned the ball over and was slow to get back up. Playing 4 on 5 defense, Duke gave up an easy bucket and on the next possession Hanlan breezed right by Cook for another score. A few minutes later, BC ran off 10 points in a row, bringing the Duke lead down to 67-46.
Until the run was stopped by, you guessed it, Rasheed Sulaimon, who drove into the lane, pulled up for a short jumper, and drew the harm for a traditional three point play. Duke built its lead back up to 28 points with 2 minutes to play when Coach K called off the dogs. At one point in the last minute, Duke's lineup consisted of Marshall Plumlee, Todd Zafirovski, Josh Hairston, Alex Murphy, and Tyler Thornton. And while that lineup is about as big as we've seen at Duke in quite a long while (6'11", 6'9", 6'7", 6'8", 6'1), it was not particularly effective. Boston College run off the last 7 points in the game to make the final score 89-68.
Quinn Cook managed 11 points in the game but only 3 assists (against 1 turnover). In his last five games, Cook is only averaging 3 assists per game, along with a dreadful 0.88 assist/turnover ratio.
For the game, Duke had five double-digit scorers. In addition to Mason Plumlee's 19 and Quinn Cook's 11, Amile Jefferson scored a career-high 14 and Seth Curry netted 12 in just 25 minutes.
But the big star was Rasheed Sulaimon, who also had a career high with 27 points, while harassing Olivier Hanlon into only 12 points and 4 turnovers. So is there a new leader in the ACC freshman of the year race? Tune in Thursday when the Devils travel up to Charlottsville to take on Virginia, and let's see how it goes.