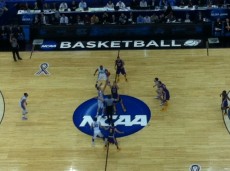 Duke opened its 2013 NCAA Tournament run Friday afternoon with a 73-61 victory over America East conference tournament champion Albany. While the game was never in serious doubt, it was far from easy.
As much as it irritates Duke fans to see every opponent bring its absolute best game against Duke, it rankles the players and coaches even more. But at his post-game press conference, Coach K was quick to point out that it's simply a fact of life when you wear "Duke" on your chest. Expect more of the same from Creighton on Sunday.
The game had a promising enough start for the Blue Devils. On its first possession, Albany only avoided a shot clock violation by flinging a wild heave off the front of the rim. Not long after, Seth Curry hit a three-pointer for the first of his game-high 26 points. Duke's defense looked quite strong early. It appeared the rout might be on.
Credit the Great Danes for not letting it happen.
Albany chose to defend Mason Plumlee in single coverage, opting instead to swarm the Duke perimeter. Mason responded with nine baskets in 11 attempts, for 23 points and 8 rebounds, but for a few minutes Albany's move seemed to flummox Duke's ballhandlers. At the first media timeout, Duke led by just three, 8 to 5.
Soon, however, both offenses seemed to hit their strides. Quinn Cook flitted in and out of the Albany defense and found Plumlee over and over for alley-oop dunks and easy layups. For the game, Cook dished 11 assists against only one turnover, hounded Albany's leading scorer Mike Black into a mere 10 points on 3 for 11 shooting, and earned his coach's praise for being "in complete control of the game."
On defense, Duke began to employ a trapping double team but for the most part Albany had the answer, generally making the extra pass and often finding an open three point shooter. The Danes' nine threes in 15 attempts kept them in the game, along with their 87.5% free throw shooting. On two-point shots, Albany shot a woeful 27% in the contest. With four minutes to go in the opening period, Duke enjoyed its largest lead of the half, 31-18, but the Blue Devils seemed to lose focus for a few minutes and went into halftime with the lead down to nine, 35-26.
After a rare miss by Seth Curry opened the second half, Duke reeled off baskets on seven straight possessions. It became evident Albany couldn't guard the Blue Devil scorers (Duke shot an amazing 58.7% for the game). On the other side of the ball, however, Albany forward Sam Rowley picked up some of the ballhandling duties from Black and the Great Danes more or less matched Duke bucket for bucket. The Duke lead bounced from 11 to 15 for more than eleven minutes, until a Peter Hooley three-pointer brought Albany within ten with 6:11 to play.
The crowd, which had been somewhat anti-Duke but hadn't been so serious about it, woke up at that point. With 4:40 to play, Jacob Iati hit two free throws to bring Albany within eight, and the joint was jumping.
Enter Seth Curry with the play of the game. Cook missed a three attempt and Curry sliced in to grab the long offensive rebound. Taking advantage of an Albany lapse, Curry drove untouched to the basket, hitting the layup and silencing the crowd. After a nice steal by Ryan Kelly on the next possession, Curry hit a jumper and Duke's lead was back up to 12. Duke hit all but one of its free throws down the stretch and held on for a 73-61 victory.
Amile Jefferson played four minutes in his home city and fellow freshman Marshall Plumlee also registered his first NCAA tourney action. The Blue Devils will meet Creighton on Sunday after the Blue Jays edged a very athletic Cincinnati team by the score of 67-63.
More from Philadelphia tomorrow.