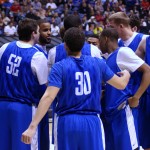 The Duke Blue Devils season ended on a sour note Sunday evening as the wheels came off in the second half against a determined Louisville team. For the longest time the game was nip and tuck but the Cards put together a 17-2 run and never looked back.
It hurts. Make no mistake about that, a loss one game shy of the final Four hurts. But the Blue Devils had a good season going 30-6 overall and making it to the elite eight in one of the toughest seeds one could imagine in a stacked regional.
Not only that, a mid-season injury to senior Ryan Kelly was a major hindrance to the teams chemistry when they were playing together better than any team in the country before it happened.
Then there was the lack of practice time for Seth Curry who battled severe shin problems and pain and that did not allow for cohesion.
Yes, indeed, Duke battled some issues yet still found a way to win 30 games for the 13th season in school history.
In hindsight, Coach Mike Krzyzewski and his staff did a miraculous job and pulled off some good wins.
Among those wins was an early season victory over the same Louisville team that defeated them and a Kentucky team which had shot blocker Nerlens Noel that was ranked quite highly at the time.
Other victims included Ohio State, Virginia Commonwealth, Florida Gulf Coast, Minnesota, Temple Miami and that team down the road, known as their arch rival North Carolina? The Blue Devils swept them.
Duke has had more than their share of what could have been seasons, most recently an injury to NBA standout Kyrie Irving, but that's the way the ball bounces.
By the time you are reading this, a little more pain may have surfaced, knowing it will be several months before Duke takes to the hardwood again. But the disappointment will pass and you will be able to remind yourself that Duke was still pretty darn good.
But when you think back on seniors Mason Plumlee, Ryan Kelly and Seth Curry, try to realize it's more than what they did on the basketball court that should make you proud.
These kids were good citizens and had character. In fact, the whole team had character and played together.
Sometimes, you get beat by the better team on a given day and that's what happened to these Blue Devils. And believe me, it is hard to beat a good team twice and Louisville certainly reminded us of that and they should be lauded for the effort.
Duke gets every teams best shot year in and year out. There are no off days, down time or breaks, yet they still put up 30 wins against the nations toughest schedule.
Sometimes you fall short of your goal and at Duke, those goals consistently remain the same, they go for titles.
This team consisted of winners on and off the court and I for one am proud of their collective effort and representing their school, fans and conference in a classy way.
So, remember, Duke Basketball never ends. It is as consistent a program as a fan could hope to pull for and rarely do they have a losing season.
Come Wednesday or so, you will start to turn your attention to the future. You will tune in to the McDonald's Game to watch Matt Jones launch a few three-point shots. You will talk of prospects Jabari Parker and Semi Ojeleye coming in and you may even take a peak at prospects further down the road in our premium subscription section.
You will also think of the returning players and you will tune into the draft to see how the seniors will fare.
Later in the summer you will likely hang out near the BDN twitter feed to see how the future players look during th N.C. Pro Am in July.
My point is simple. the future is still bright and the past is pretty darn good. So, no sad faces here, for you are a Duke Basketball fan.