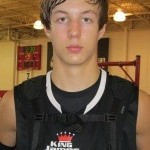 We posted a one on one video chat with Luke Kennard (Class of 2015, 6-5, 185 WG, Franklin, OH) helping you get to know the latest target on the Duke radar two days ago but here is a follow-up interview after Coach Mike Krzyzewski and assistant Jeff Capel took in three of his games during the Nike EYBL Peach Jam.   The southpaw Kennard has the nation's top programs waiting in line to court him and he's improved greatly from a season ago.
The Ohio native is a hustler on the court, playing with that little edge or perhaps I should just simply say be brings a lot of tenacity to the court with his game.  Ohio State has been on him the longest and North Carolina has offered him recently and before the ink dries in this article, he'll probably hold an offer from Duke as well.
Kennard made an unofficial visit to North Carolina during the Duke versus UNC game, but that morning he slipped over to Duke with his high school coach.  And his parents?  They grew up Kentucky fans.  To read more about this and learn much more about Kennard who is also an accomplished quarterback on the football field where he holds a offer from Louisville, join Blue Devil Nation Premium for full site access.
You're a two sport athlete, right?
Yes, I play quarterback in football. I have an offer in from Louisville.
So, which sport do you feel you will play in college? [private]
Probably basketball.
You just finished up your last game, a close loss but you have more or less blown up this weekend. have you been hearing from a lot of folks already?
Not tons yet, but I know some people have been in touch with my Dad and I will talk to him.  We played them (Arkansas Wings) before, we beat them before.
(About this time, father walked up and out his hand on my shoulder and said something none of us quite understood.)
I know Kentucky has been showing major interest.
Cal called. He wanted me to call him.
Cal called you while here?
Well, he called my Dad but said he wanted to talk to me.
Your parents grew up Kentucky fans. is that correct?
Yeah, they did, but right now we don't really have a favorite team.
You had a lot of coaches on you during the last game ,.. Calipari who you said your family heard from and Krzyzewski ... have you heard from Duke?
I have heard from Duke. Actually, they came to the last three games I have played. Coach Scheyer, who played at Duke has been texting me a lot. I think Coach K called by Dad yesterday. I went on an unofficial visit to UNC when thy played Duke and we snuck over that morning and saw Duke. We walked around the campus, me ans my high school coach and it's nice over there.
Some have said Ohio State is the leader and Greg Paulus has been at all of your games here.  Is he the lead assistant for the Buckeyes?
Yep, yeah. they've recruited me the longest. Paulus has been watching but Jeff Bowles, he's been texting me every day. I think he is at he Adidas tournament right now, but yeah, Coach Paulus has been talking to me a whole lot but there is no leader at this time. There is so much happening right now, it's hard to pick a leader at this point, but Ohio stat is definitely up there,
Carolina, Duke. Florida, Indiana, Louisville, Michigan and Michigan State ...
I have always dreamed of this kind of thing, so I am enjoying it and just have to keep getting better.
Have you been involved with USA Basketball yet? And if not, would you like to be?
I haven't yet, but I would like to try.
Vegas or Orlando?
Orlando. I will go to Chicago next week, but we'll finish up in Orlando.
Tell me a little more about your high school football career ..
We run the spread the hurry up. My freshman year i didn't start but sophomore year I started. I played baseball until the sixth grade and stopped to focus on two sports. I always played football and my high school coaches think I should continue and will be good at thar sport as well. I have fun with it.
I understand your parents grew up Kentucky fans?
They grew up in Pinksville. They didn't go to Kentucky but he grew up pulling for them. I've lived in Ohio my whole life, so my Dad has been here for a while now.
When you get around to making your final decision who will be involved in the process?
My parents and my high school coaches
Who is your high school coach?
Brian Bayless. he does a good job.
What areas of you game do you feel needs improvement?
I have been working with this guy on post moves. I think I need work there and I;ve been working on my strength too, I have gotten a lot stronger since last year.
You seem serious on the court and or you compete hard.  Once, I saw you get a little frustrated when teammates would not spread the court properly in the motion offense.
I'm very competitive. I try to talk and get teammates to the right positions so we can execute the play, so yes, I do sometime get frustrated if one is out of position but that's a rarity and you just play through it.
You seem as enthused about playing on the defensive end as much so as the offensive end.
Yes, I try to play hard on both ends as much as I can.
Did you have a dream school growing up?
I watched Kentucky and Ohio State growing up but no dream school.
Do you try to pattern your game after any particular player?
I"ve always watched Reggie Miller play and Durrant. People tell me I look like him.
Have you always played for the King James Shooting Stars?
No. This is the first time for me.  Me, the big man and the point have been together for three or four years and then some guys from up state in Akron joined us, like VJ.
What do you think of your teammate VJ?
Well, he's just a freshman and he played for Team USA. He could be th top player in his class.
Has playing two sports had any negative effects?
We made it pretty far in the playoffs last year so we had jump right into basketball but the two haven't really had any negative effect one way or the other. I still get in the gym though, even during football season.
Would you call yourself a gym rat?
Absolutely. [/private]