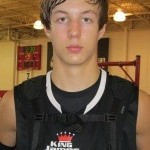 We posted a one on one video chat with Luke Kennard (Class of 2015, 6-5, 185 WG, Franklin, OH) helping you get to know the latest target on the Duke radar two days ago but here is a follow-up interview after Coach Mike Krzyzewski and assistant Jeff Capel took in three of his games during the Nike EYBL Peach Jam.   The southpaw Kennard has the nation's top programs waiting in line to court him and he's improved greatly from a season ago.
The Ohio native is a hustler on the court, playing with that little edge or perhaps I should just simply say be brings a lot of tenacity to the court with his game.  Ohio State has been on him the longest and North Carolina has offered him recently and before the ink dries in this article, he'll probably hold an offer from Duke as well.
Kennard made an unofficial visit to North Carolina during the Duke versus UNC game, but that morning he slipped over to Duke with his high school coach.  And his parents?  They grew up Kentucky fans.  To read more about this and learn much more about Kennard who is also an accomplished quarterback on the football field where he holds a offer from Louisville, join Blue Devil Nation Premium for full site access.
You're a two sport athlete, right?
Yes, I play quarterback in football. I have an offer in from Louisville.
So, which sport do you feel you will play in college?



Sorry, but you must become a premium subscriber to view the rest of this post.

Join now by visiting the PREMIUM MEMBERSHIP link at the top of the page, where you can learn more about the benefits of a Blue Devil Nation Premium membership.