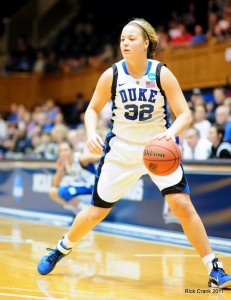 The USA Women won Gold today in Kazan, Russia at the World University Games with a 90-71 victory over host Russia in the Championship Game. Duke guard Tricia Liston averaged 8.2 points per game in 13.7 minutes of action, during the tournament. She made 42.9 percent (9-21) of her 3 point field goal attempts and was a perfect eight for eight from the free throw line.
The toughest game for the United States was a 79-78 victory over Australia in the semi-finals. Australia stormed out to a large 1st quarter lead before the United States battled back with tenacious defense to build a 17 point lead. However, Australia wasn't finished as they mounted a furious comeback and took the lead with less than a minute to play in the game. Crystal Bradford (Central Michigan University) scored the decisive basket with 14 seconds remaining in the game.
The USA was led by Bria Hartley (Connecticut), Kaleena Mosqueda-Lewis (Connecticut) and Odyssey Sims (Baylor).
In preliminary round play, the USA was not challenged and easily defeating Mali (120-32), the Czech Republic (101-61) and Brazil (105-75). Liston scored 13, 14 and nine points respectively in those three games.
The quarterfinals saw the USA defeat Sweden 103-72. Liston scored 11 points in the victory.