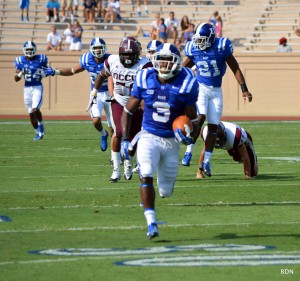 DURHAM - The Duke Blue Devils moved to 1-0 on the young 2013 college football season on Saturday as they blanked cross-town rival NCCU 45-0 in Wallace Wade Stadium. The win snaps a streak of 5 straight losses to close out the 2012 season, and is the Blue Devils 4th straight victory against in-state opponents. It's the first shutout for Duke since the 1989 season.
Six different players scored touchdowns for the Blue Devils, as QB Anthony Boone led a balanced offensive attack that finished with 231 yards through the air and 257 yards on the ground. Boone finished the day an efficient 16/20 for 176 yards passing, and added 24 yards and a rushing touchdown. Brandon Connette continued his red zone success, both rushing and throwing for a score in the first half. Braxton Deaver opened the scoring in his return to action with a 3-yard catch from Connette in the 1st quarter, and big Issac Blakeney scored the final touchdown late in the 3rd quarter on a 19 yard grab from Connette. Jela Duncan paced the Blue Devils on the ground with 76 yards on 11 carries and 1 touchdown.
After an early missed FG by Ross Martin on the opening drive, Duke also controlled the game in special teams. The Eagles consistently found themselves deep in their own territory to start drives. Jamison Crowder electrified the crowd with his 76-yard punt return for a touchdown. Will Monday was very solid in limited action, and Ross Martin connected on a late 39-yard field goal to finish the scoring.
The star of the game, however, was the Duke defense, which controlled the Eagles offense at the line of scrimmage all afternoon. NCCU converted just 9 first downs all afternoon, and totaled 184 yards of offense. The defensive effort was bolstered by the return of LB Kelby Brown, who finished with 7 tackles, and the addition of Ohio State transfer S Jeremy Cash, who finished with 5 tackles. Veteran DEs Kenny Anunike and Justin Foxx appeared in mid-season form as they created havoc in the Eagles' backfield all afternoon.
A number of true freshmen saw their first college game action. Wide receivers Ryan Smith, Johnell Barnes, and Anthony Nash all showed flashes of their play-making ability. In the secondary, Breon Borders ended the game with his first career interception, which capped off a strong afternoon. Fellow freshmen Bryon Fields and Deondre Singleton also contributed to the defensive effort.
The only disappointment of the afternoon for the Blue Devils was the turnout, which totaled just 22,521.
Duke travels to Memphis next Saturday as they look to build on their dominant win and move to 2-0 on the season.