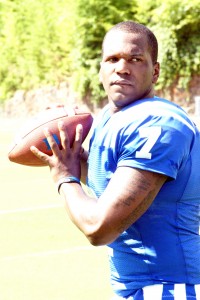 The Blue Devils reeled off 35 unanswered points after falling behind 22-0 to secure their fifth win of the season in dramatic fashion in Charlottesville on a cool, cloudy afternoon.
Virginia took the opening kick off and promptly marched 78 yards for a touchdown to go up 7-0. The drive was culminated by Kevin Parks' one yard run and included Virginia successfully executing a fake punt.
The Cavaliers went on to jump all over Duke to the tune of a 22-0 lead by scoring on a 56 yard drive and a 77 yard drive. Kevin Parks scored his second touchdown on another one yard run while his third touchdown was via a pass over the middle. Duke had no answer for Virginia's short passing game.
Meanwhile, Duke's first six drives ended with a punt. Quarterback Anthony Boone was consistenly missing receivers short and the Blue Devils offense was off to a frustratingly slow start.
On Duke's seventh possession, the offense started to click with Boone hitting Brandon Braxton for 14 yards, then a 25 yard completion to Braxton Deaver and ultimately a six yard touchdown pass to Jamison Crowder on a rollout to cut the deficit to 22-7.
The Blue Devils defense held forcing Virginia to punt so the offense was afforded one more possession, but the half ended when Anthony Boone was sacked.
Virginia racked up 280 first half yards to Duke's 185. Boone completed only nine of 22 pass attempts for 91 yards.
But this game was a tale of two halves with Duke dominating the 2nd half.
Duke's first possession of the 2nd half ended when Boone threw an interception and it appeared the offense would continue to struggle.
After forcing Virginia to punt once again, Duke reeled off a 13 plays, 62 yard drive that cut the deficit to 22-10 via a 25 yard field goal by Ross Martin.
Next possession Duke cut it to 22-17 on a three play 53 yards drive featuring a 42 yard pass reception by Crowder. Brandon Connette scored the touchdown on a six yard keeper.
Suddenly Duke was dominating Virginia on both sides of the ball.
Tight End Braxton Deaver scored two 4th Quarter touchdowns on a 47 yard pass from Brandon Connette and a 24 yard pass from Anthony Boone and the Blue Devils held a 32-22 lead. Ross Martin would add three more points on a 32 yard field goal for the final score of 35-22.
Duke racked up 472 yards of total offense, was 4-4 on 4th down conversions and did not punt in the 2nd half.