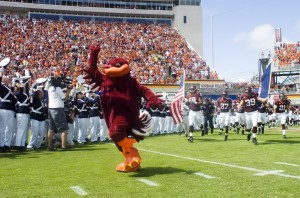 The Blue Devils are seeking bowl eligibility as they look for their 6th win in Blacksburg this weekend. After a slow start, the Hokies find themselves at 6-1 and tied atop the ACC Coastal Division. To give us an inside look at the Hokies this week, we welcome in Norm Wood of the Daily Press in Newport News, Virginia. Norm has been an ACC media veteran, covering the Virginia Tech and Virginia sports beat since 2000 for the Daily Press. His work can be found online at the ACC All Access blog, and be sure to follow him on Twitter as well.
Bud Foster has long been considered one of the top defensive coordinators in the college game, and he has the Hokies back at the top again in 2013, where they rank 2nd in total defense and 5th in scoring defense, holding opponents to just over 250 yards and 15 points per game. What has been the source of the Hokies' defensive success? What does the expected return of CB Antone Exum mean to this unit?
Though Foster's group hasn't had Exum's services all season until now, Foster has still been able to work with one of the most experienced units he's ever had in his 18 seasons as Tech's defensive coordinator. Tech's graybeards on the defensive line and in the secondary have been most effective, helping the Hokies amass 27 sacks and 13 interceptions, which puts them first and second in the nation, respectively, in those categories. Perhaps most impressive is how Tech has achieved those marks. Foster, who always preaches a stop-the-run-first mentality, has primarily employed a nickel package that has featured true freshman Kendall Fuller at starting outside linebacker and operating as the nickel back in the scheme. Fuller was recruited to be a cornerback, a position he has also played with success. True freshman Brandon Facyson has also played a significant role while stepping into Exum's starting spot, logging four interceptions (third in the nation) and nine passes defended (third in the ACC). Of course, Tech has gotten efforts worthy of at least All-ACC consideration from cornerback Kyle Fuller (ACC-best 12 passes defended), who is Kendall's big brother, middle linebacker Jack Tyler (team-best 57 tackles, which is also fifth in the ACC), defensive ends J.R. Collins (team-bests with 8 1/2 tackles for loss and five sacks) and James Gayle (6 1/2 tackles for loss and three sacks), defensive tackle Derrick Hopkins (6 1/2 tackles for loss and four sacks) and strong safety Kyshoen Jarrett (40 tackles and two interceptions). Though Exum is set to step back into his starting role this weekend, Duke might actually be catching Tech's defense at the right time. Kyle Fuller is questionable with a groin injury, while Facyson is doubtful due to a concussion. If those guys can't play, Tech will be left with just four available scholarship cornerbacks - an odd spot for the Hokies to be in, considering they started the week with cornerback representing an overwhelming area of strength. Kendall Fuller may slide back to starting cornerback if Kyle can't play.
Much has been made about the inconsistent play of QB Logan Thomas, even though he has the Hokies at 6-1 and atop the ACC Coastal Division. How would you assess the play of Thomas and the offense thus far this season?
The importance of Tech's defensive success can't be stressed enough when looking at the struggles the offense has had to find balance. While the passing game continues to make strides under quarterback Logan Thomas, the rushing attack is still woefully deficient. After an exceptionally slow start, which was aided by a corps of wide receivers with far too many drops in the first two games, Thomas has been sharp in Tech's three ACC games, completing 57 of 87 passes (65.5 completion percentage) for 753 yards, four touchdown and no interceptions. Receivers Demitri Knowles (29 catches for 346 yards and two touchdowns) and Willie Byrn (25 catches for 349 yards and a touchdown) have emerged as dependable targets. Though Thomas has still completed just 55 percent of his passes on the season for 1,451 yards, nine touchdowns and six interceptions, he's gone 109 consecutive pass attempts without throwing an interception. He's not getting much support from the running game. Running back Trey Edmunds leads the team with 393 yards rushing, but he's run the ball 29 times in ACC competition for just 41 yards. Running back J.C. Coleman was limited and missed most of the first month of the season due to a high left ankle sprain, but he's finally gotten back to full strength in the last couple weeks and could provide a big boost on the ground. The coaching staff spent much of the early part of the off week on the schedule last week breaking down every offensive play to analyze breakdowns in the ground game from running and blocking perspectives. They also took a close look at protections in the passing game. It'll be interesting this week to see if Tech simplifies things in the running game - offensive coordinator Scot Loeffler insists there hasn't been much taken out of the playbook in his pro-style scheme - or if it emphasizes the passing game.
With 2 weeks to prepare for the Blue Devils, the Hokies are nearly a 2 touchdown favorite at home in Blacksburg. Duke has given the Hokies a scare in recent meetings, but have still dropped 9 in a row to Virginia Tech. What do you expect to be the key match up in this year's meeting?
Early this week, the key matchup would've been how Tech's offensive line responded to a week of rest against Duke's defensive front after the Hokies were banged up and soldiered through seven consecutive games without a break. Tech's offensive line, which uses a zone-blocking scheme, needs to have a breakout performance in terms of run-blocking - an area it hasn't excelled in to this point. Now, with the potential absences in the secondary and Exum's increasingly prominent role upon his return, it's become apparent the most critical matchup becomes Exum and whoever starts at the other cornerback spot (Kyle Fuller if healthy, and likely Kendall Fuller if Kyle is out) against Duke receivers Jamison Crowder, Brandon Braxton and Max McCaffrey. Don't be surprised to see Tech use defensive end Dadi Nicolas at outside linebacker while employing safety help over the top to provide backup for the cornerbacks. Nicolas is perhaps Tech's most skilled athlete on the defensive side. He has the speed (sub-4.5 seconds in the 40-yard dash) to hang with tight end Braxton Deaver, running backs out of the backfield or even receivers in one-on-one coverage on short routes. He played the outside linebacker role for the first time two weeks ago in Tech's 19-9 win against Pittsburgh, but his duties were specific in that game. He was only asked to rush the quarterback, and he responded with three sacks. Still, how Tech's depleted group of cornerbacks responds to the challenge of facing an offense that isn't bashful about slinging the ball around will be crucial.
Entering the second half of the 2013 season, the Blue Devils are trying to build a winning football program in Durham as they look for their 6th win and first-ever second consecutive postseason apperance. Looking around the modern college football landscape, it's hard to find a more stable program than the one built by Frank Beamer in Blacksburg. The Hokies' boast college football's winningest active coach and a streak of 20 consecutive bowl appearances. As you look back, what do you think have been the key to Beamer's longevity and success in Blacksburg?
Obviously, several factors feed into Beamer's successful run in Blacksburg, not the least of which is the fact he's been able to retain Foster so long on his staff. Foster has been with Beamer for all 27 seasons at Tech - a working relationship that defines the program. Foster has been picky about job prospects, only taking serious looks at head coaching interview opportunities from programs in automatic-qualifying Bowl Championship Series conferences, which has clearly limited his options. For the first 20 years of Beamer's tenure, he had one of the most stable staffs in all of college football. His staff has experienced quite a bit of turnover in recent years, but Foster has been the constant. Support from the athletic department and administration has also been important. During the lean years, when the Hokies endured three seasons of 3-8 records or worse in Beamer's first six seasons, Tech stuck with Beamer. That's not something that would probably happen in today's win and win-now era. Tech has also invested heavily in the football program in the last 11 years or so, adding over $100 million in renovations to Lane Stadium, constructing state-of-the-art locker rooms, player lounges, tutoring facilities and training facilities and devising plans to build a $25 million indoor practice facility that is targeted for use beginning in Aug. 2015. Getting that kind of support isn't possible if Tech doesn't have the kind of success (not to mention accompanying national television exposure) it's had over the last two decades -  77 NFL draft picks (six first rounders), 20 consecutive bowl appearances (current third-longest such streak in the nation), eight appearances in BCS-equivalent matchups (though just two wins in those games), four conference titles since joining the ACC in 2004 and one national championship game appearance (in 2000).