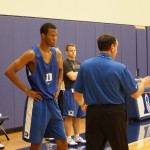 The Duke Blue Devils held on for dear life as a much less talented Vermont team pushed them to the brink in their own house.  Cameron Indoor Stadium was in shock as the Catamounts almost pulled off what would have been quite possibly the biggest upset in the hallowed buildings long history.
The Blue Devils defense struggled mightily on the evening allowing 90 points to a team that was averaging a mere 63 ppg coming in.  The effort obviously upset the team and coach for the locker room doors stayed closed much longer than usual and you could hear a pin drop when they finally opened.
In fact, the first thing you would have seen entering is Rodney Hood  who scored 22 points and grabbed 7 rebounds with his head stuck in his hands.  It was clear that Krzyzewski had given the team a piece of his mind and that they knew they had almost blown a game that would have been devastatingly embarrassing to the hallowed program.
Perhaps even more disturbing was the fact that this game resembled the close win over East Carolina with concern to competitiveness and that begs the question has this team had its confidence shaken?
Cut it any way you want to, but Duke was quite simply supposed to have defeated Vermont going away and instead they had most of the crowd pinching themselves to make sure what they saw on the court was actually real.
Granted, it's early in the college basketball season and games in November will soon be long forgotten.  But there is a lot of talent on this team and their communication is simply lacking.
"We got lucky.  We didn't deserve to win this game," said Rodney Hood
A few moments later a beleaguered Krzyzewski took to the podium and one could see that he had no real answers as to the lack of communication.
The bottom line is Duke escaped with a 1 point win at home against a team that is now 1-5.
That is not the Duke Basketball that anyone involved expected to see and it certainly raised some red flags.
Another mildly odd stat was the fact that Duke outrebounded the Catamounts, but not by much and this is a team ranked beyond 300th in that category.
The good news is that Duke will have a chance to save a little face and soon with a much tougher Alabama team on the horizon but if Duke plays as it did against East Carolina and Vermont and they allow them to gain confidence by not taking advantage of their patented runs, we'll be talking of the second loss on the young season.
The one thing that is clear after tonight is that Duke is most definitely a team that is a work in progress.
And the one thing that is most fortunate for all involved with Duke is that they managed to win a game that would have been an absolute disaster of a loss.  It would have been a monumental upset, the kind that some teams would struggle to ever bounce back from.
Here is what Jabari Parker had to say in the post game.