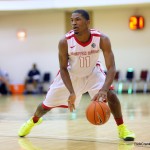 The Duke Blue Devils struck recruiting gold again today when one of the nation's top wing prospects, Justise Winslow decided he would play his collegiate career at Duke University.  After an emotional announcement streamed on line, the Blue Devil Nation is happy.
Winslow joins his former Team USA U-17 teammates Tyus Jones and Jahlil Okafor as well as Grayson Allen to form what will be the nation's top rated class.  Winslow is the reining Texas Gatorade Player of the Year.
The Houston native chose Duke over Arizona and other top schools at his St. Johns high school earlier this afternoon.  The Blue Devils had been recruiting Winslow for almost a full three years where Jeff Capel was the lead assistant, but Coach Mike Krzyzewski played a huge role as was in constant contact throughout the process.
"Jahlil and Tyus are great friends and they've always talked about going to the same school together. And that's something we have discussed," said Winslow.
Winslow roomed with Jones and Okafor when his Team USA U-17 team travelled overseas
"Justise Winslow is an amazing player. He's one of my best friends. He's a freak athlete. He can shoot it, he can dribble, and he's like 6'6." He's really strong and a tremendous defender. He's an amazing player," said his future teammate Jahlil Okafor earlier this AAU season to Blue Devil Nation.
Winslow is a difficult match up on the court in that he is a well-rounded wing player with a high skill set. He possesses a good handle, gets into passing lanes well on defense and can guard multiple types of players.
His strength is that he has the ability to battle inside or take the three-point shot as he has extended range. He can be aggressive and has a good basketball IQ having played with high level competition with his Houston Hoops AAU team.
Justise is the son of Rickie Winslow, a member of the University of Houston's famed Phi Slamma Jamma, who then later carried his game to the NBA.
Winslow has already sent his Letter of Intent to attend Duke University in per sources.