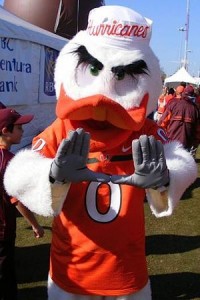 It's Senior Day in Durham on Saturday, but the Blue Devil senior class has some unfinished business left on the field. Duke hosts Miami in a matchup of ACC Coastal Division leaders. The Blue Devils now control their own destiny to Charlotte, and a win on Saturday would go a long way towards a possible Coastal Division Championship. Duke rides a 5-game winning streak into the matchup, while the Hurricanes have dropped 2 in a row. To get an inside look at Miami football, BDN welcomes in Manny Navarro of the Miami Herald. His work can be found at the Eye on the U blog, and on Twitter.
Miami enters Saturday's contest on a 2-game losing streak, having recently lost two of their top offensive weapons in WR Phillip Dorsett and RB Duke Johnson to significant injuries. Can this offense be as explosive without those two playmakers? What adjustments do you expect to see from QB Stephen Morris and the offensive staff?
There's no question Miami's offense missed Duke Johnson last week against Virginia Tech. The Canes only ran for 28 yards on 24 attempts and could never really establish a running game, making them one dimensional. Stephen Morris actually played well against the Hokies. What hurt him were the drops by his receivers. They've actually had 11 combined drops in the last two weeks including a pair that would have gone for touchdowns. Allen Hurns has done a real nice job stepping up in Dorsett's absence. Freshman Stacy Coley has had his moments of brilliance. But there's no doubt this offense has missed Dorsett and Johnson and will miss them Saturday.
The Hurricanes' are holding opponents to just 23 points per game on the season, but are coming off a game where they allowed a struggling Virginia Tech team to put up 42 points and 549 yards of total offense. What is the source of their recent defensive struggles?
I definitely feel like there was some carryover from the Florida State loss with Miami's defense. They can't afford to have any this week and know it. The biggest issues have been missed tackles and blown coverage assignments the last two weeks. Watch the film of the last six quarters and it's a horror show. The honest truth is this defense is average at best. What helped them mask their deficiencies for the first seven games of the season were turnovers and sacks. They also were much better on third down earlier this year. Over their last 3 games opponents are converting at a 60 percent clip against Miami. Over the first six games nobody did better than 40 percent against the Canes.
The Blue Devils have dropped 9 games in a row to the Hurricanes; entering this year's matchup, Duke and Miami both sit atop the ACC Coastal Division standings at 7-2. What do you expect to be the keys to victory on Saturday?
Turnovers. Turnovers. Turnovers. It's quite obvious both of these teams live and die with them. Last week, the two fumbles by Miami on special teams completely changed the momentum of the game. If the Canes win the turnover battle they will win this game. If they don't, Duke is going to end that nine-game losing streak.