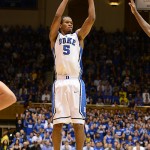 The Duke Men's Basketball team returns to the court against Georgia Tech tomorrow evening hoping to even its ACC record in the early season.  The Blue Devils fell out of the A.P. top ten for the first time since 2007 this week which ended an amazing streak.
Duke, now ranked 16th in the country, lost their ACC opener on the road against an inspired Notre Dame team which exploited some of the team weaknesses and the hope is for that to be a learning lesson.
Many were shocked by the result, but most never take into account that Duke gets every teams best shot. Besides, this Duke team with its youth was never wired to win early.
As crazy as it sounds, all losses will be forgotten once the annual March Madness starts and many of them will be avenged come tournament time when it really counts.
But between now and then, Duke needs to grasp their learning experiences quickly for the ACC is a pesky league and they have no scheduling favors despite their lineage.
Like any other team, Georgia Tech sees Duke as an opportunity and a measuring stick for their club.
The Yellow Jackets are formidable enough to where you certainly cannot take them lightly. They're also one of the best rebounding teams Duke will have faced and that was a to be a major area of concern , but the injury to Robert Carter has drastically changed their teams outlook.
The Jackets did not adjust well against Maryland in their ACC opener, but it's still a team with some weapons and the key for Duke will be to not allow them confidence.
One would think if history repeats itself, Duke will come out hell-bent on securing a win after an opening day ACC loss. In fact, I think we'll see a no quarter defensive effort and an easy win by nights end.
A key match up to watch will be Georgia Tech point guard, Trae Golden against Quinn Cook. With the injury to Carter they need more points out of their leading scorer.
Another thing I expect to happen is that the Blue Devils will aggressively attack Jackets center Daniel Miller in an effort to get him into foul trouble, for in his absence the paint would be wide open.
So, yes, I expect Duke to right the ship against the 9-5 Yellow Jackets and push their ACC record to 1-1 while navigating their way back towards the nation's top ten.