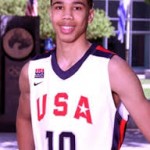 Duke Basketball has offered Jayson Tatum a scholarship per sources. Tatum is one of the top prospects in the class of 2016 and hails from St. Louis, Missouri.
Tatum is active with Team USA Basketball and is rated the second best at his position by ESPN.
He holds offers from Kentucky, Kansas, Ohio State and North Carolina amongst others.
Tatum has a silky smooth game and puts the ball on the floor well driving the ball to the rim. He possesses a solid basketball IQ and has the ability to continue to get better, meaning good upside.
Like many Duke prospects, he has a solid background and seems grounded in his faith. You can follow him @Im_that_dude22 here. Stay tuned for more from Blue Devil Nation.