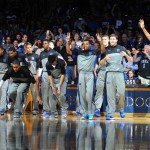 We've been conspicuously absent since Duke lost and the main reason was to let the dust clear. Duke Basketball has created a monster of a fan base these days and quite frankly, it's hard to navigate the waters in the various social media forums without being berated with rants from spoiled fans or short sided criticism of the team and Coach Mike Krzyzewski.
The bottom line is that by Duke standards, the Mercer loss was a disappointing end to the season, one where the team never quite came together. In fact, this past seasons team never seemed mentally tough enough to advance but they were all good stewards for Duke just the same.
Were there specific reasons for this team to fall short of expectations? Sure there was, but there are no simple answers and certainly not any one thing to point to in trying to explain a first round exit.
I suppose one can call me old these days and I am sure many think I am cranky. But age does add wisdom and what I see is a blip on the radar with concern to Duke's performance.
Duke had a staggered roster that needed Jabari Parker to play more in the paint, but that is not his natural position. They tried to off set their short comings in the paint with their perimeter play, but that didn't work as well as expected. In fact, Duke was very inconsistent with their backcourt play where every player on the roster contributed to the plight. The guards struggled mightily to prevent penetration. Oddly, they saved their best collective performance for last, but then the front court issues reared its head in the Mercer loss and or the lack of post scoring.
And one cannot under sell the fact that Coach Mike Krzyzewski suddenly had to deal with the loss of his beloved brother. And the timing of that happening in season and at Christmas simply cannot be overstated. You see! Coach K is as human as you and me, but he's just accomplished more than most reading this ever will in their profession, making him seem super human at times.
It never fails. Any time Duke loses, the lunatic fringe or narrow thinking bunch comes out firing that he's losing his touch. They point to the same old tired analogies that have gained steam over the years like an old wives tale gains more to the story as time passes and becomes a bastion of misquotes.
Please. Coach K is still the winningest coach in the history of the college game. He's still got the touch and he's still got the desire. Krzyzewski hit the recruiting trail running attending Luke Kennard's announcement that he will attend Duke. And that wasn't his only stop on the recruiting trail.  In short, it took the staff little time to start to rebuild and secure future players.
As Duke fans, most of you are very lucky to have chosen to root for a team with a living legend at the helm. And fortunately, there are still rational fans or those who appreciate the body of Krzyzewski's  work and have the foresight not to judge him on a season or even two.
The truth of the matter is that most fans adopted Duke for they were consistent winners. The vast majority of Duke Basketball fans do not pull for the football program and that in a sense makes them bandwagon fans. Bandwagon fans are hard to please for they think it's their birthright to win every game, every season and when this doesn't happen, they ask what's wrong.
Nothing is wrong folks, save a dose of reality. It's not easy to win year in and year out. It's not easy to win national titles or even ACC Championships, yet the Duke program has done so and if the "Balance God's," are listening, they gave the Blue Devils several breaks along the way for more success than pretty much every other fan base enjoys.
Yes. Most of you have become quite spoiled as fans.
Anyhow, let me get back on track here by saying there is always a lot going on behind the scenes and the margin for error in going out early in the NCAA's is a small one in this day and time.  I mean, it's not like any one program is dominating the scene at this time and you don't have to look far to see other behemoths like Kansas and North Carolina are also at home seeking distractions until the season ends.
Duke Basketball is way too big to let one season bring them down. And it's not like they didn't get some big wins, but they simply fell short of goals and it happens.
Anyhow, some of you can go back to harping on one and done types, live in the 90's and such. The truth of the matter is that it is simply a time for adjustment. That adjustment could be a few simple tweaks but there is no reason the believe they will not be made. Duke Basketball is alive and well, just a little wounded at the moment.
Tomorrow, Krzyzewski will address the media and you can bet that we'll learn a lot more at that time. He's always shared more after the season than in season and we can expect him to address many issues.
That said, stay tuned, for we'll be here to bring you what he says.  Until then, some could take a step back and a look at the big picture and the success you've enjoyed from a team always being competitive at the highest level.  Some times, it's simply your turn to lose.  It happens.  It's real.  But it's not the norm for Duke Basketball nor will there likely be another first round exit a season from now.