What a difference two short weeks make.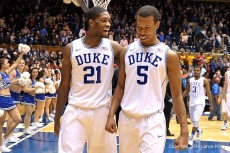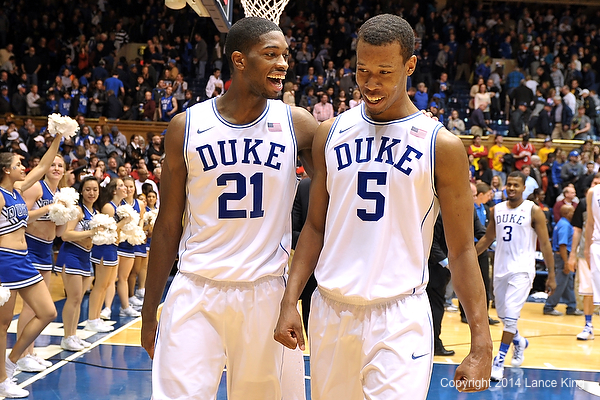 Back on February 18, Duke was set to play three games in five days and people wondered if the team would still have gas in the tank for the third game, against then #1 Syracuse.
Now the opposite issue arises: today marks the 7th straight day in which Duke hasn't played a basketball game. Good thing or not? The plus side contains items like healing the bruises and minor injuries, and using practice time to get shooting touch back, refine defensive schemes, and add new wrinkles, rather than simply preparing for the next opponent. The down side involves concepts like "rust," losing the edge, or blunting momentum. So which is it? Is having seven days off this late in the season a blessing or a curse? Let's look at the past 30 years and find out.
For starters, we're in a bit of uncharted territory. Believe it or not, going all the way back to the 1983-84 season, Duke has never had eight days between games (and thus seven days off) after January 1. Not once. So we're going to have to expand our search a little.
In games before January 1, Duke often plays on long rest, almost always in December due to either the exam break or the Christmas holiday. Altogether the team has had a 7 or more day break 57 times since 1983-84, and has won 56 of the games after the long rest (the sole loss was in the 1994-95 season, just a few weeks before Coach Mike Krzyzewski took a forced leave for medical reasons). While winning 98.2% of one's games sounds pretty great, it's also true that most of those games were scheduled against less talented teams to guard against a possible rust problem. That said, Duke's overall December record for the past 31 seasons is 89.8%, impressive but not quite as impressive as 56-1.
Considering the weak December schedule, though, perhaps we need to expand in other ways. Let's step down just a bit and look at instances of six days off (seven days between games).
Starting with games before January 1, we've had 10 six day breaks, and not surprisingly won 9 of the games after the layoff (90.0%), with the only loss coming in the 1983-84 season.
Duke also sometimes gets six days off between its last game in the ACC tournament and its first NCAA tournament game, or between an Elite Eight victory and the first Final Four game. It has happened four times before Duke's first NCAA tournament game, with the team winning twice and losing twice (in 1984 and 2007). Since the six day layoff can only happen if Duke loses early in the ACC tournament, there may have been other reasons for these losses in Duke's NCAA tournament opener. In five Final Four games after a six day layoff, Duke is 4-1, with the lone loss coming against eventual national champion Kansas in 1988.
Most apropos to our current question, of course, are games during the ACC season after six (or more) days off. This has happened just six times in the past 31 seasons, but the good news is Duke went a perfect 6-0 in those games (including the Maryland game this year and two ACC openers in December).
Lumping all games together, with six or more days off between games, Duke is 7-0 against ACC teams, 6-1 against ranked teams (the loss coming in December 1983), and 3-0 against top 10 teams.
If we dial back even further, to a five or more game layoff (including the six, seven, or longer layoffs reported above), here are the stats:
FIVE OR MORE GAME LAYOFF, 1983-84 through 2013-14 (so far)
Before January 1: 66-3 (95.7%)
Before First ACC Tournament game: 11-2 (84.6%)
Before NCAA Tournament game (first game or first Final Four game): 17-8 (68.0%)
Before Regular Season ACC game: 8-1 (88.9%)*
Before any game against ACC opponent: 20-3 (87.0%)
Before any game against ranked opponent: 12-6 (66.7%)
Before any game against top 10 opponent: 7-3 (70.0%)
* NOTE that Duke's winning percentage in regular season ACC games after fewer than 5 days off during the period was .740 (not counting 1995 when Coach K didn't coach).
So what does it all mean leading into tomorrow's game against Wake Forest? Probably not very much. But I'm leaning toward the side that says the non-opponent-related practice time and allowing our bruises and minor injuries to heal can only help Duke in the long run.