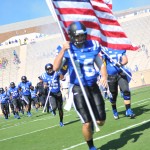 Before the advent of the World Wide Web, college football fans would flock to their local newsstands in early June to take a gander at the many college football pre season magazines. Back then, this was one of the only forms of information available to the casual fan and to this day, they still command some attention. After all, there is nothing like a hard copy for some good summer reading. Without further ado, let's take a look at where the Blue Devils rank in the various magazines and a look at which player are being projected for national honors -
THE SPORTING NEWS
One of the oldest and most collected publications over the years was Street and Smiths pre season previews. Not long ago, the magazine merged with The Sporting News and now flies under its brand. This preview magazine is pretty straight forward with its information and has benefitted from a lay out facelift in the off-season, but there remains a lack of lists and chatter beyond the standard previews.
TSN National Champ pick - Oklahoma
Coastal Division picks - UNC, Miami, Duke, Virginia Tech, Georgia Tech, Pitt, UVA
All ACC - 1st team - Jamison Crowder, Kelby Brown
Noteworthy - Jamison Crowder picked 3rd Team All American
ATHLON
Athlon has been printing sports publications in the modern era and they provide fun little lists to go with their previews. They also print some regional offerings for major interest teams.
Athlon National Champ pick - Florida State
Coastal Division Predictions - Virginia Tech, Miami, UNC, Pitt, Duke, Georgia Tech, Virginia
All ACC - 1st Team - Laken Tomlinson, 2nd Team - Jamison Crowder, Jeremy Cash, Kelby Brown, Braxton Deaver
Noteworthy - Despite being picked 5th in their division, Athlon picks Duke 38th overall in the nation. Laken Tomlinson is projected to be 2nd Team All American. Devon Edwards and Jamison Crowder are listed as All ACC Specialists.
LINDY'S
Lindy's came onto the scene about the same time as Athlon and the two are almost always the first two previews to hit newsstands. Good lists and articles add to the preview magazine.
Lindy's National Champs pick - Florida State
ACC Coastal Division picks - Miami, Duke, Pitt, UNC, Virginia Tech, Georgia Tech, Virginia
All ACC - 1st Team Jamison Crowder, Laken Tomlinson, Jeremy Cash, Will Monday. 2nd Team - Braxton Deaver, Ross Martin, David Helton, Kelby Brown. 3rd Team - Anthony Boone, DeVon Edwards.
Noteworthy - Duke is picked as the 35th best team in the nation. Jamison Crowder is listed as the 5th best WR in the nation, Braxton Deaver the 3rd best TE in the land and Tomlinson the 4th best RG in the country. Also, Jeremy Cash is ranked as the 7th best safety and Monday the 7th best punter.
Also on newsstands is a USA Today preview that picks Duke to win the Coastal Division and go 10-2 in the regular season. They also rank the Blue Devils 17th in the nation in their top 25 ahead of some juggernaut programs.
The best of the pre season magazines, Phil Steele's preview is slated to be out this week and it is jammed packed with information and it gets my top recommendation. As you can see, Duke Football has mixed views going into the season, but it is clear there is more respect than ever after last seasons amazing run and a record-setting 10 wins. Yes. You can actually pick up a college football preview magazine these days and see how far the program has come.