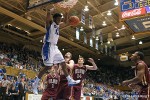 The Duke Blue Devils shook off their holiday rust against a spirited and pesky Elon team on Monday evening. When the dust cleared, Duke came away with a 75-62 victory and are now 9-0 on the season.
Duke was led by Jahlil Okafor who tallied 25 points and 20 rebounds on his birthday. At the 11:36 mark in the second half, Okafor with 18 rebounds at that time had as many as the entire Elon team. Despite that fact, it was a lack luster performance from the rest of the team.
Duke did not share the ball like they had in previous games and seemed sluggish after the exam break. The Blue Devils also seemed to have a tough time putting their big win at Wisconsin behind them.
Duke shot just 3 of 16 from beyond the three-point stripe and went just 14 of 27 from the free throw line. During the post game press conference Duke Coach Mike Krzyzewski also said that his team didn't block out well nor did they fight for loose balls.
What does all that mean? Well, for one thing there will be quite a tough practice tomorrow before the team heads to New Jersey where they will take on the defending national champion in the Connecticut Huskies
What we also learned tonight was that this team has a core of freshman who are just that. Krzyzewski pointed to his first year players experiencing things for the first time, such as the long lay off and coming off a big Duke win.
The Blue Devils dealt with a lot of intangibles on this evening and they learned that they can indeed get caught napping which could lead to an upset unless they bring consistent effort to each game.  Despite the staff having drilled that into the team earlier in the week, the lesson was furthered on the court against Elon where Duke could never pull away.
"We didn't do the hard things.  Hard things would be finishes.  Hard things would be being strong with the ball.  Hard things would be to be to talk. Hard things would be to dive for loose balls," said Krzyzewski.  And that just scratches the surface of many other comments made about his disappointment in his team's performance.
Coming into the game, Duke was averaging over 100 ppg in Cameron this season and after each win, it was a joyous locker room.  But tonight, you could hear a pin drop.  There were no celebrations and the players were not happy with their performances.
"We have to have really good practices, starting tomorrow," said Duke Captain Amile Jefferson after the win.  "Guys have to come tomorrow ready to work."
Kyrzyzewski hit the nail on the head with concern to Okafors sensational stat line.  He knew it was a great performance, but the rest of the team just didn't play up to the lofty standards it will take to continue to build on early season success.
On this night, Okafors stat line hid the stagnant offensive output and it almost seemed like a wasted effort.  Why?  Because it was overshadowed by some non Duke like play.  If it weren't bad enough that Duke struggled on the evening with consistency, they got a cheap foul in the end which cut the lead down significantly and it was just one of the many things which seemed to make Krzyzewski's  blood boil.
The victory was the 114th consecutive non conference win Cameron and Krzzyewski now stands at 992 victories.  Duke won its 159th game this decade, second in the nation during that time span.