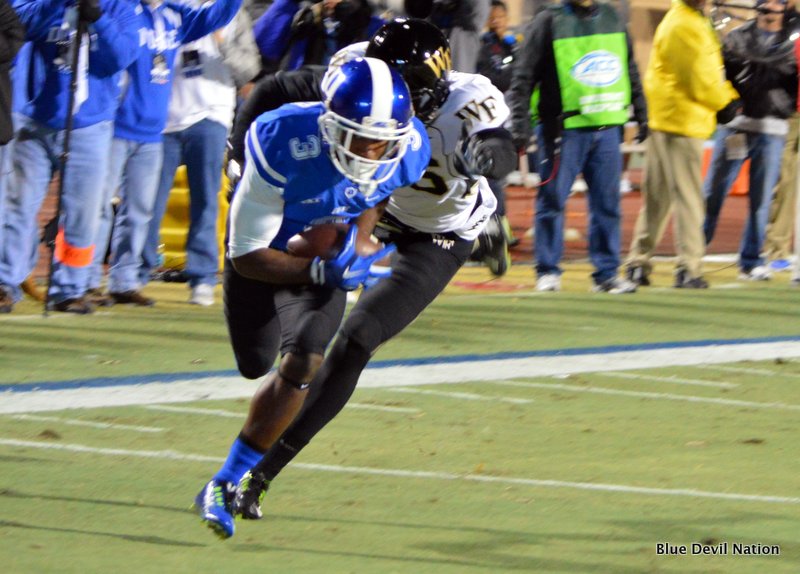 Sun Bowl Preview: Arizona State vs Duke
2:00 PM ET
Saturday, December 27
El Paso, TX
TV: CBS
Duke in 2014: 9-3
Arizona State in 2014: 9-3
This will be the first ever meeting between Duke and Arizona State. In their last game out, on November 29, Duke defeated Wake Forest 41-21, while Arizona State lost to Arizona 42-35 on November 28. Arizona State compiled a 4-2 record against teams ranked in the Top 25 compared to a 1-0 record by Duke.
ARIZONA STATE SCOUTING REPORT
The Sun Devils are a powerful offensive team, which averages 37 points per game and features a 1,000 yard receiver and a 1,000 yard rusher. Their defensive strategy is to blitz, blitz and blitz some more while utilizing man-to-man pass coverage in the secondary. This aggressive approach has resulted in Arizona State being tied for seventh in the nation in Sacks with 39 and fifth in the nation in Tackles for Loss with 97. However, the Sun Devils are 84th in Pass Defense Efficiency.
All American wide receiver Jaelen Strong (#21) is projected to be a 1st or 2nd Round selectee in the 2015 NFL Draft. At 6'3 215 pounds, he is a big, physical receiver who uses his height to go up and get the ball. Strong, who has 75 receptions for 1,062 yards and 10 touchdowns, is going to be a big test for Duke's secondary.
Running back D.J. Foster (#8) has rushed for 1,002 yards and nine touchdowns in 2014 and is already receiving hype as a potential 2015 Heisman Trophy candidate. Foster is also a dangerous receiver out of the backfield having recorded 59 receptions for 646 yards and three touchdowns. He is the Sun Devils second leading receiver.
There is a some uncertainty at quarterback for Arizona State. Senior Taylor Kelly (#10) will start but back up Mike Bercovici (#2) could see playing time. Kelly threw 20 touchdown passes against five interceptions in nine games this season, but he was pulled in the season finale against Arizona in favor of Bercovici.
Bercovici started three games in the middle of the season when Kelly was sidelined with a foot injury leading the Sun Devils to a 2-1 record including wins over Top 25 Stanford and USC. He threw 12 touchdowns and four interceptions on the season.
Defensive lineman Marcus Hardison (#1) has 10 quarterback sacks, 14 tackles for loss and two interceptions. Hardison is dynamic playmaker and his match up against Duke left tackle Takoby Cofield will be key to the game outcome.
Safety Damarious Randall (#3) is the team's leading tackler with 101 and also leads the team with three interceptions.
Other players to keep an eye on include: wide receiver Cameron Smith (#6) recorded 41 receptions for 546 yards and six touchdowns; linebacker Laiu Moeakiola (#28) recorded five quarterback sacks and 10.5 tackles for loss; linebacker Salamo Fiso (#58) recorded 3.5 quarterback sacks and 11 tackles for loss.
HOW DUKE CAN WIN
Strong quarterback play will be the number one factor for Duke to secure a victory. Anthony Boone must manage the game plan by throwing accurate passes and executing solid reads to keep the Blue Devils offense clicking. His running skills will be important to counter Arizona State's blitz package as the QB draw play and read option keeper could exploit the Sun Devils aggressiveness. However, the main thing Duke needs Anthony Boone to do is accurately pass the ball to Duke receivers who will be facing lots of man-on-man coverage.
The second most important factor for Duke will be achieving balance on offense. Duke is at their best when successfully running and passing the ball. Teams that have shut down Duke's running game and forced the Blue Devils offense to be one dimensional have had success against the Blue Devils in 2014.
On defense, Duke must prevent explosive plays. Arizona State has tremendous team speed so it will be important for the Blue Devils to keep the Sun Devils in front of them. To counter Arizona State's potent rushing attack, Duke must protect the edges with lateral quickness followed by solid open field tackling. Missed tackles will be costly against D.J. Foster and Demario Richard (#4).
Special teams play is key to winning the very important field position battle. Duke must excel in the kick and kick return game to ensure they play on a short field, while forcing Arizona State to play on a long field. The Sun Devils did not return a kick-off nor a punt for a touchdown in 2014.
HOW DUKE CAN LOSE
Ball security is paramount for the Devils...make that the Blue Devils. Duke cannot turn the ball over to Arizona State's high octane offense and be successful. If Duke has trouble hanging on to the football, they will lose.
Anthony Boone must have time to execute the offense, make his reads and throw the ball. If he spends the afternoon being hurried, harassed and sacked, he will make costly mistakes and Duke will lose. The offensive line must protect Boone against the blitzing Sun Devils defense. Achieving success running the ball would go a long way toward slowing down the blitz.
KEYS TO THE GAME FOR DUKE
1. Strong quarterback play.
2. Achieving offensive balance.
3. Preventing explosive plays.
4. Winning the kicking game.
BOTTOM LINE
This game will be a strength against strength match up with Arizona's blitzing defense against Duke's offensive line, which is ranked number one in the nation in Tackles for Loss Allowed and eleventh in the nation in Sacks Allowed. The battle along the line of scrimmage will be critical.
There is an expectation the Sun Bowl will be a shootout as both the Blue Devils and the Sun Devils possess high octane offenses, but I am predicting both defenses will prove to be stouter than expected. With the over/under set at 66.5 points, the under will prevail as Duke wins their first bowl game in almost 54 years.
Duke 30, Arizona State 27