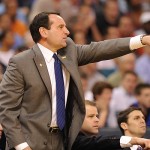 The Duke Blue Devils currently stand 8-0 on the young college basketball season.  We covered the fast start in a previous article, now let's take a quick look at the road ahead –
The first leg of the journey …
The Blue Devils will next take to the court against Elon in Cameron Indoor Stadium on December the 15th.  Yes, tip off for that contest is still a week off and its by design that Duke generally plays a lesser opponent to shake off the exam break blues.  The reason being that this game will serve as a tune up for their next marque match up against the defending national champion Connecticut Huskies. There will surely be a standing room only crowd in East Rutherford, New Jersey when the Blue Devils take on the Huskies in that both teams have huge alumni bases in the area.   If Duke comes out of these two games, they'll head into ….
… the final holiday break of the season where the Blue Devils hope to be 10-0.
Duke will get an eleven day break after the UConn match up where they return to action against Toledo on December 29th, followed by the Wofford  game on the 31st and or New Years Eve.    These two opponents will be the last easy games on the Blue Devils schedule before they get into the thick of their ACC slate.  That statement is not meant to be disrespectful to Toledo which is currently 4-4 or Wofford who stands at 7-2.  It's just the way Duke schedules and the ACC is shaping up at the top, makes these easier contests than most of the remaining games.  Coach Mike Krzyzewski and company will shake off the Holiday break in these match ups and could very well enter ACC play 12-0.
Nowhere to go but down …
It's easy for the fan base to suddenly take early season success for granted.  Duke is currently ranked as the number two team in the country and they will likely keep that spot if they get past the Huskies.  The hype machine will be in full swing and that means new lessons to be learned by the freshman.  So far this season, the freshman and veterans on the Duke squad have dealt nicely with expectations.  In fact, they've been cool customers on the court in hostile environments.  The win over Wisconsin solidified Duke in the eyes of the general media.  It's not easy to beat the Badgers anywhere, much less their infamously tough home court.  And despite the loss, the Badgers dropped just four spots to sixth in the country in the polls.  While the Blue Devils are flying high, the schedule gets tougher which brings about varying amounts of possible adversity.  Duke must travel to Louisville with no return favor.  They also have tough road games at North Carolina,  N.C. State, Virginia and Syracuse as well as one more non conference road game at St. John's.  They do get an upstart Miami team at home as well as return trips from North Carolina and Syracuse.  Duke is riding high at number two in the nation and they could get to the number one spot, but realistically, there is nowhere to go but down after a loss when in early season rare air.  I might add that past a game against Louisville and a home contest against North Carolina, Kentucky which is ranked in the top spot then takes on a soft SEC slate.  That means, they'll almost assuredly remain in that spot for most of the season.
A lot of speculation  …
Fans and media can speculate on what might transpire down the road.  It's easy to go out on a limb, but hindsight has a way of making current realities seem, well … you know.  Right now, it looks like the Blue Devils are destined for great things, but we're more than three months removed from March when the true madness begins.  Mike Krzyzewski knows that it is what you do at that time that folks remember most and it will be fun to see how he molds his troops for the stretch run.
And all eyes will be on Coach K …
… as he goes for an unprecedented 1000th win as a college basketball coach.  Somewhere scalpers are already speculating on when that might be, for it will be a most storied day in Duke tradition.  I will tell you that if Duke stumbles or loses on game between now and January the 19th, it will come at home to Pitt.  And if they run the table, they will be going for it  for their coach against Louisville the game before.  Okay, I'll stop looking so far ahead now.  What we will all see is how the Duke players handle the situation as it nears, for their will be hype and deservedly so for Mike Krzyzewski.  Adversity can even come in positive scenarios as well for players and watching them deal with the pressure will prove interesting.  It's been a long and wonderful ride for Duke fans with the living legend at the helm.  He's spurned he NBA on many occasions and stuck it out in Durham.  I am old enough to remember his early struggles, but I have also seen his accomplishments.  Quite frankly, it's memory overload for me when thinking back on all the wonderful seasons and players he's coached.  I'm just glad I got to see a lot of his career up close and personal and that the ride is far from over.
In closing, I will repeat myself from my last blurb on the team.  It's a fun bunch to watch and a likable team which seems to have the ability to do special things.  And with that said, enough speculation … let's just take it one game at a time and enjoy the ride.