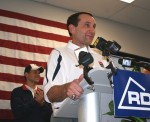 COLORADO SPRINGS, Colo. – Kyrie Irving was among 30 finalists for the 2016 U.S. Olympic Men's Basketball Team announced Monday by USA Basketball, furthering the former Duke star's quest to make his first Olympic appearance.
The official 12-member 2016 U.S. Olympic Men's Basketball Team roster will be announced later this year.
Duke's Naismith Hall of Fame head coach Mike Krzyzewski will once again lead the 2016 USA coaching staff. He will be assisted by Jim Boeheim (Syracuse University), Tom Thibodeau and Monty Williams (Oklahoma City Thunder).
Krzyzewski has coached USA National teams to a sterling 52-1 record in official FIBA or FIBA Americas competitions since 2006, while also compiling a 23-0 mark in exhibition games and leading teams to gold medal finishes at the 2014 FIBA World Cup, 2012 London Olympics, 2010 FIBA World Championship, 2008 Beijing Olympics and the 2007 FIBA Americas Championship.
"This selection process was difficult from the start, and obviously it is only going to get more difficult as we look to get to the official, 12-man roster," Krzyzewski said. "I'm excited about the possibilities this team has. Among the finalists, we have multiple players who won gold medals at the Olympic or World Cup level. The roster of finalists features incredible talent, great balance, outstanding leadership, and I believe like we had with our previous teams, this team will have a special chemistry.
"Having a deep, very talented and extremely versatile roster is of critical importance in pursuit of the Olympic gold medal in Rio. All of the players who have been part of the national team program should be recognized and commended for their commitment and contributions, acknowledged for their willingness to do whatever asked and for representing the United States in such outstanding fashion."
Irving was named MVP of the 2014 FIBA World Cup for his role in leading the U.S. to a 9-0 record and the gold medal. He started all nine games, averaging 12.1 points, 2.6 rebounds, a team-leading 3.6 assists and 1.9 steals. For the tournament, he shot 56.3 percent from the field, 60.9 percent from beyond the arc and 83.3 percent from the free throw line.
The West Orange, N.J., native also owns a gold medal from the 2010 USA U18 National Team that plowed through the 2010 FIBA Americas U18 Championship with a 5-0 record. In 20 total games for USA Basketball, Irving has averages of 12.9 points, 3.2 rebounds and 4.1 assists while shooting 56.1 percent from the floor, 51.1 percent from three-point territory and 87.2 percent from the line.
After averaging 17.5 points and 4.3 assists in his lone season at Duke, Irving was selected first overall in the 2011 NBA Draft. He was named 2012 NBA Rookie of the Year and has been named both an NBA All-Star and All-NBA selection in each of the last three seasons.
The 2016 Summer Olympic Games will be held Aug. 5-21 in Rio de Janeiro, Brazil. Men's basketball preliminary play will be held Aug. 6-15, with the quarterfinals scheduled for Aug. 17, semifinals on Aug. 19 and the gold and bronze medal games on Aug. 21.
2016 U.S. Olympic Men's Basketball Team Finalists
LaMarcus Aldridge, San Antonio Spurs
Carmelo Anthony, New York Knicks
Harrison Barnes, Golden State Warriors
Bradley Beal, Washington Wizards
Jimmy Butler, Chicago Bulls
Mike Conley, Memphis Grizzlies
DeMarcus Cousins, Sacramento Kings
Stephen Curry, Golden State Warriors
Anthony Davis, New Orleans Pelicans
DeMar DeRozan, Toronto Raptors
Andre Drummond, Detroit Pistons
Kevin Durant, Oklahoma City Thunder
Kenneth Faried, Denver Nuggets
Rudy Gay, Sacramento Kings
Paul George, Indiana Pacers
Draymond Green, Golden State Warriors
Blake Griffin, Los Angeles Clippers
James Harden, Houston Rockets
Gordon Hayward, Utah Jazz
Dwight Howard, Houston Rockets
Andre Iguodala, Golden State Warriors
Kyrie Irving, Cleveland Cavaliers
LeBron James, Cleveland Cavaliers
DeAndre Jordan, Los Angeles Clippers
Kawhi Leonard, San Antonio Spurs
Kevin Love, Cleveland Cavaliers
Chris Paul, Los Angeles Clippers
Klay Thompson, Golden State Warriors
John Wall, Washington Wizards
Russell Westbrook, Oklahoma City Thunder
Managing Director: Jerry Colangelo
Head Coach: Mike Krzyzewski
Assistant Coach: Jim Boeheim
Assistant Coach: Tom Thibodeau
Assistant Coach: Monty Williams