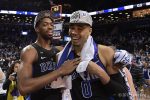 The Duke Basketball team left for Greenville, S.C. today where they'll take on Troy this Friday evening.  The Blue Devils are coming into that game carrying the flag of the ACC Champs with them having won four consecutive games in the conference tournament.
By now, the team has had some much-needed time to rest and put their most recent  delightful accomplishment behind them.  Duke wants to the confidence of their victories to carry over but only that. Now, Mike Krzyzewski will insist they get back into their take one game at a time mode.
In their wins in Brooklyn, they had to adhere to the above statement for if they looked ahead fatigue would set in.  What they accomplished as a team took away the doubts of many. The reason being that this group is coming together at the right time of the season and seems destined for even better play.
By playing four games in as many days and hoisting the ACC Champions Trophy, the confidence should carry over.  It is true that Duke will have a two-day break between games moving forward, but they proved to themselves they could play tired as a unit and tough out wins.
While Duke was successful in coming back against three nationally ranked teams, they hope to move past that in the opener with Troy.  While you certainly cannot take any team lightly, the opponent is not considered a top 25 team by any means.
Duke must now take another step in showing they can gain and hold a lead against teams they're favored to defeat.  To do this, they must play every game as if it is their last in that is a winning habit.
It's one and done now folks.  Any slippage can send players home. Duke will likely advance past Troy to take on the winner of Marquette-South Carolina.  While media and fans can look a little beyond, there is no way Krzyzewski will let it happen with the team for that is what has worked for them.
If the Blue Devils look at Troy any differently than a must win game, they could lose the chemistry they've developed.  At this point of the year, it is not only survive and advance, but  about building winning habits along the way.
Duke is healthier than at any other time this season.  They have confidence and no how hard they had to work to defeat a gauntlet of outstanding team in the ACC Tournament.
This weekends event will be another test which in theory they should pass.  Duke will be favored to advance and head back to New York but they want to do so in style.  With North Carolina, South Carolina and other fans in the same facility, it may even seem like an away game of sorts.  But that is a challenge this team can handle.
It often times benefits teams to watch others play the day before them.  Upsets occur and it is a reminder that it can happen.  Duke has a nice blend of outstanding young talent to go with three players who own National Championship rings.  But victories and moving forward at this time of year requires immense focus and togetherness.  Only time will tell if Duke has enough resolve to advance each time out.