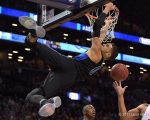 You could not possibly draw up a better scenario for the Duke Blue Devils than how the ACC Tournament has gone to date. They started the week off by beating a game Clemson team and then took out two top ten teams in Louisville and North Carolina.
The last two wins saw the team make furious comebacks down 12 against the Cardinals and 13 versus the Tar Heels.  During these two wins, Duke showed confidence and played their best basketball of the season.
The bottom  line is when Duke gets multiple players hot on the offensive end, they are tough to beat.  The Blue Devils will now play their fourth consecutive game in as many days.  This time they must find way past Notre Dame .
To defeat the Irish, Duke must put their sensational performance against North Carolina in the rear view mirror.  The team can go back and enjoy that win more if they have another game in them. Many expected the Blue Devils to look leg-weary last night and most feel fatigue will play a role this evening.
Only time will tell if Duke hits a wall, but the team has shown that they are up for all challenges of late.  You can bet this team wants that trophy.  They want to cut down the nets in Brooklyn.  They want to be the hot team everyone is talking about  going into the tournament.
For whatever reason, Mike Brey and Notre Dame have always played the Blue Devils tough.  They were the last team to knock them out of the tournament a season ago.  While Duke enjoyed a win over the Irish in South Bend, it was Jeff Capel at the helm in his best job filling in for then sidelined Mike Krzyzewski.
So what I am hinting to here is that Krzyzewski would like nothing more than to beat his former assistant in Brey.  That can happen but it will be far from easy.  The reason is the Notre Dame program is more or less modeled on Krzyzewski principles.  They love the three-point shot, shoot free throws well and play with spirit.
The one place Duke has a clear advantage could be inside.  For the Blue Devils to exploit that Harry Giles will have to show up again.  In the teams 93-83 win over North Carolina, Giles settled into the game over time and had his best outing as a Blue Devil.
But the big four of late have been Jayson Tatum, Luke Kennard, Grayson Allen and Frank Jackson.  This group has been playing much better together by sharing the ball and believing in one another. Tatum is becoming a matchup nightmare, while Grayson Allen is Grayson Allen once again.  Kennard has been steady and Jackson is showing he is coming out as well.
Duke will once again be tasked in slowing down a long time nemesis in Bonzie Colson.  The All ACC first team player has had major success against Duke.  This will be a grand test for Amile Jefferson to keep him in check.
The Irish feature a three-headed monster of a backcourt that consists of VJ Beacham, Matt Farrell and Steve Vasturia.  And like the last two Duke opponents, the Irish have a days rest on their counterpart.  Another Irish standout in Rex Pflugber actually came close to talking a little smack in saying his team wanted the Blue Devils.
With a late start, Duke has been able to get a little more rest.  I expect Krzyzewski to show a few wrinkles against the Irish.  In the games against North Carolina and Louisville, he changed up his defenses which spurred key runs.
You will see a spunky effort from both teams in this game where things might even get chippy.  It will be physical and feature some runs.  In th end, it almost seems as if Duke is destined in my opinion. There has been so much adversity and disappointment and now the team can smell the ACC Championship Trophy.  It won't be easy but I am picking Duke to win as I have in every game in the tournament.
The Pick here is Duke 84 Notre Dame 78