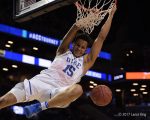 The 2017-18 Atlantic Coast Conference schedule for Duke will provide a little relief when compared to this past seasons slate.
Duke seemed to play all of its tougher opponents on the road this past season.  It was a difficult schedule and  when coupled with numerous player injuries and surgery for Mike Krzyzewski  that meant a 5th place finish in the regular season.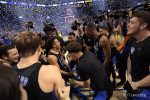 One could speculate that having to play four games in four days in a loaded ACC Tournament may have been too grueling physically going into the NCAA's.  Duke won the league tournament in grand fashion and carry the conference trophy into the off-season.
Duke would be rewarded with a number two seed in the NCAA Tournament.  In an odd situation, they had to play South Carolina in what was to be an away game with a throng of UNC fans in the stands to  to boot. This seemed hardly fair for a team that earned a high seed by beating three ranked teams in four days work,
But that is the way the season went for the Blue Devils.  There were obstacles galore which almost created a cursed effect at times. Duke was everyone's choice to cut down the nets but no team could stand all the bad luck and make it to that goal.
Going into the off-season, Duke still can hang its hat on the fact they defeated the eventual national champion and arch rival North Carolina two out of three times.  That, in itself, showed just how good Duke was at times and that they were close to breaking through all the aforementioned injuries.
A lot has yet to happen with concern to next seasons roster.  Duke has two players in Luke Kennard and Grayson Allen who may consider the NBA  Draft or test the waters,  The Blue Devils also hope to secure the services of prospects Trevon Duval, Kevin Knox and possibly Mo Bamba.
But despite how it all  shakes out, Duke is expected to put together another team that will challenge for a national title.  One of the things that could help is an easier ACC schedule.  With that said, lets take an early look ahead.
While no dates, times and such have been finalized we do know who Duke will play in 2017-18.  As always, Duke will play two late season games with arch rival North Carolina.  This series will always be competitive.
Duke will take on Wake Forest twice, who may or may not have John Collins.  The Blue Devils will also face what will be a solid Virginia Tech team home and home.  The Hokies will be an upper division team in the league under third year coach Buzz Williams.
The Blue Devils will round out their fourth home and home series with the Pitt Panthers.  This is a team that will be in a major rebuilding mode and likely to gain a couple of transfers into the program in the coming months.
As I mentioned, Duke had to play most of the leagues better teams on the road a season ago,  There will finally be some relief this coming season.
Florida State, Louisville, Notre Dame, Virginia and Syracuse will be single games for Duke.  And each of those likely ranked opponents will all visit Cameron.
As for the road games, Duke will travel with no return game to Boston College, Clemson, Georgia Tech, Miami and N.C. State.  All of these teams coluld be better and like Duke, there are still key players who could be added.  Still, these are more manageable road games on the surface than a season ago.
So, to break it down Duke will play-
HOME
North Carolina, Wake Forest, Virginia Tech, Pitt, Louisville, Notre Dame. Florida State. Virginia, Syracuse
AWAY
North Carolina, Wake Forest, Virginia Tech, Pitt, Boston College, Clemson, Georgia Tech, Miami. N.C. State