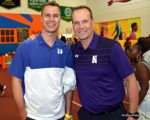 Day one of the Nike EYBL Session I is in the books as several Duke prospects kicked off the season in Hampton, Virginia.
The most impressive performance came from big time prospect Cameron Reddish who came alive in the second half when Duke Assistant Coach Jon Scheyer showed up.  Reddish led Team Final to an easy win, tallying 24 points, 8 rebounds, 3 steals and 2 assists.
Another key target is the brother of Tyus Jones.  Tre is his own player and he continues to make a name for himself.  His Howard Pulley team lost a close game in their opener.  He finished the night with 12 points, 8 assists and 3 rebounds.
Point Guaed, Darius Garland had 14 points, tying for a team high and 5 assists, but his Bradley Beal Elite team lost a close game.  Another Duke prospect R.J. Barrett was not in uniform for UPLAY Canada. No reason is known as to why at this time.
Marvin Bagley III had 27 points and 10 rebounds but his team lost a low scoring game.
Several new names on the radar performed well as Jon Scheyer took time to watch several players play about one half each.  We will be talking about those new names on the BDN message board in the coming days.  Mike Krzyzewski is expected to come in town tomorrow.  Already in attendance were Roy Williams, John Calipari and Steve Alford, amongst others.
Former Duke players and coaches Johnny Dawkins of Central Florida and Chris Collins of Northwestern were also at the event. Both Duke alums are coming off huge seasons with their respective teams.
Coming soon, several interviews which include Cameron Reddish and Tre Young.  The event continues at the crack of dawn tomorrow and runs through Sunday.