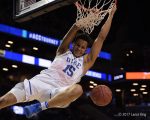 There will be a lot of NBA eyes on Frank Jackson during the NBA Combine which started today and runs through the weekend.
The rising sophomore declared for the draft without an agent and he has until May 24th to pull out per college rules or June 12th by NBA rules. Of course, only the college rule really applies here.
There has been a lot of speculation with concern to Jackson who is an above average athlete.  Mike Krzyzewski challenged him to raise the level of his game down the stretch run a season ago and Jackson  put up better numbers.
Jackson can be a prolific offense scorer at times where he shows flashes of dominance.  But most agree that he needs to tighten up his handle a bit and work on his decision-making.
What is interesting is that the Utah Jazz hold two picks in this years first round.  Jackson is a Utah native and there has been some speculation he might be in line for their 30th pick if he shows well this week.
It came as a bit of a surprise when he entered his name to many in that he would be up for a possible captain spot on a young Duke team next season.  At this time, Duke has just four true guards on the roster in Grayson Allen and freshman  Alex O'Connell, Jordan Goldwire and Gary Trent Jr.
Of those four, two are considered likely to play significant minutes. Then there is the pending decision of Trevon Duval.  Even if Duke was to land Duval, Frank Jackson would be of major value and add to what would a high end four man rotation.
Duke likes to play its guards and would likely play three at a time if Jackson returns and Duval decides to join the group.  Allen is the only other ball handler that has proven himself on the team, so Jackson's return would be a vital ingredient.  In short, all of these guys would see major minutes.
ESPN's Fran Frashcilla and Jeff Goodman were asked about Jackson today.  I cannot confirm what they say is actually true, but here is their take from a call in show earlier -
FRAN FRASCHILLA: I'm a Frank Jackson fan from this point of view. First of all, there's a dynamic there that Jeff can really touch on, too, with Duke this coming year with Trevon Duval goes on and signs with Duke, which it's heading in that direction. But Frank played — actually played really well in the second half of the year in what I would describe as a dysfunctional Duke season because of the injuries, particularly and the suspension to Grayson Allen. Frank is a kid, because of his athleticism and shooting ability, that will be eventually, in my opinion, a good NBA player, not necessarily an All-Star, he may not go in the first round, but I personally like his long-term opportunity to play in the league because he's such a young freshman and because he's showed glimpses of the player he was in high school and on the AAU circuit, when many of us said he's one of the top-10 players in the country, I think will be NBA players, if not later than sooner.
JEFF GOODMAN; Frank Jackson is a tough decision, because as Fran said, Duke is probably going to get Trevon Duval. He's the best point guard in the country, he's a scoring point who's better equipped to play the point than Frank. If they get him, how worrisome is that for Frank Jackson, and also the other part is does Grayson Allen coming back to school, did that hurt Frank Jackson's decision to come back to Duke, because it's going to be Grayson's show again to some degree, and now Frank is probably worried about his role, will it expand at all potentially next year with Grayson back, with Duval, with the freshman class that they've got coming in, which is, again, very, very good. Most NBA guys, almost all of them told me Frank should come back. He's a second rounder right now who has a good chance to become a first-rounder in time. May not be next year, he may be a four-year player, but don't worry about rushing out of there, he can become a first-round pick, a guy that's a guaranteed first-round pick for the most part, if he's patient and works on his game.
NOTES - Amile Jefferson is an alternative for the event.  Luke Kennard is participating but will not compete in the five on five. Harry Giles Jr. is one guy many are curious to see and his stature could see major movement.  Jayson Tatum will not participate. Former Blue Devils Semi Ojeleye has not signed with an agent and will participate in the 5 on 5 drills and every other one.