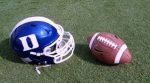 Football season is coming and fast as evidenced by the fact that the ACC media will gather in Charlotte this week to discuss the 2017 campaign.
Duke hopes to get back to a bowl game again this season and to doing so while possible will be difficult in a tough conference.  The Blue Devils return 12 starters from a season ago and will be a young team at several key positions.
The Blue Devils had been to four consecutive bowl games before that streak was broken a season ago.  Duke is expected to be picked 6th in their division once votes are cast but their fortunes could be better in the Coastal race.
Here are a few pre season notes and information heading into Media Day for the Blue Devils.
Team Strengths
Daniel Jones had a break out season after replacing the departed and formerly injured Thomas Sirk at the start of last season.  Jones was thrown directly into the fire and after a slow start showed immense promise moving forward.  Jones will take his first snaps this season with much more experience.
The wideouts pretty much return intact and there is more depth at this position than in years past.  Duke has experience at Tight end to go with talented newcomers as well.
The offensive line should come together at least where the starters are concerned.
The Linebackers are solid with depth in the two-man starter scheme.
Coaching should be better as many on the staff had a season to get their feet wet in competition after a year that featured major change.
Team Questions
While the offense returns a lot of players on paper, the unit has to score no less than 7 more points from a season ago to compete.
The defensive front will build depth as it goes and is very young.
The defensive backfield is young as well and will break in new starters.  Having a young unproven front and back is not an ideal situation.
The kicking game was abysmal a season ago.  There are some newcomers hoping to help, but the team must find a kicker that can knock down a 40 yard and in FG on a moderately consistent basis.
Other notes
As far as freshman who are most likely to start during the season we'll tab WR Scott Bracey Jr. on the offensive side of the ball.  A redshirt freshman has the skill set to compete early on for a starters spot.  On defense, look for true freshman DE to possibly start from day one or after a few games into the season.
Duke will also need to build running back depth quickly with two freshman high on the depth chart behind senior Shawn Wilson.
Duke will send QB Daniel Jones and DB Byron Fields to ACC media day as team representatives this Friday.
Duke opens the 2017 season with three consecutive home games before travelling to North Carolina for an early season ACC opener with its arch rival.