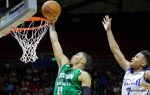 Two former Duke Blue Devil basketball players have been honored by their peers during a Q & A with rookies entering the NBA this season.
After a lack luster class a season ago, this years NBA crop of rookies could be remembered as one of the best drafts in recent memory.  Duke placed three picks in the first round and one in the early second round.
Most recently, NBA.com sent out a survey to the rookie class asking them to vote on perceived accolades.  Jayson Tatum, who is headed to the Boston Celtics was honored as the player most likely to have a great career.  He tied the Lakers Lonzo ball for the honor.
Which rookie will have the best career?
1. Lonzo Ball, L.A. Lakers -- 18.4%
 Jayson Tatum, Boston -- 18.4%
3. Josh Jackson, Phoenix -- 10.5%
Dennis Smith Jr., Dallas -- 10.5%
5. De'Aaron Fox, Sacramento -- 7.9%
6. Markelle Fultz, Philadelphia -- 5.3%
  Harry Giles, Sacramento -- 5.3%
Ben Simmons, Philadelphia -- 5.3%
Tatum tying Ball makes it four straight years of Duke Blue Devils earning the most votes in this category by their peers where they joined Jabari Parker, Jahlil Okafor and Brandon Ingram.
Luke Kennard was also picked as the best shooter in the group.  the Detroit Piston to be, won the honor by a wide margin over the closest competitor.
Which rookie is the best shooter?
1. Luke Kennard, Detroit -- 48.6%
2. Malik Monk, Charlotte -- 13.5%
3. Terrance Ferguson, Oklahoma City -- 10.8%
4. Kyle Kuzma, L.A. Lakers -- 5.4%
Tyler Lydon, Denver -- 5.4%