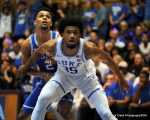 Duke Basketball held their annual Countdown to Craziness event on Friday evening.  While not the official opening, the popular event is more or less the kick off to another season.
The Blue Devil faithful were once again treated to a light show with sound and music.  The event is coordinated by Coach Mike Krzyzewski's daughter, Debbie Savarino.  The theme of this years poster is called "Electric," and the CTC event played that up.
First Impressions
Duke is big.  Even Coach K said this during his press conference after the game.  The Blue Devils take up a lot of space on the floor with their size which was evident even when the team faced off against one another.
The Blue Devils Are A Work In Progress
Talent is not an issue for this seasons team but getting to know one another will take some time.  Don't think for one second you can learn much from what you saw last evening.  The reason being that most of the kids who faced off against one another will be playing together.  The two exhibition games coming up will go a long ways in development.
Current Starters
If the season were to begin today, Mike Krzyzewski said that Grayson Allen, Gary Trent Jr., Marvin Bagley III, Trevon Duval and Wendell Carter Jr. would start.  That means Javin DeLaurier and Marques Bolden would be the first players off the bench.
What Is Already Good
Duke should phenomenal in the paint.  They have a lot of front court players who can flat-out get on the boards.  Bagley and Carter are book ends and Bolden and Vrankovic add even more girth.  DeLaurier also grabbed a game high nine rebounds, but he will be used differently on defense due to his motor.
What Needs Work
Clearly one of the most talented players on the court is Trevon Duval.  But he is still learning the point guard position and is a work in progress with concern to dishing the ball off.  While Alex O'Connell and Jordan Tucker looked good on the offensive end, they are still learning the Duke defensive system.
Competition
Wendell Carter goes up against Marvin Bagley and Grayson Allen goes up against Gary Trent.  What that means in practice and the Blue and White game is that the guys are getting better playing against one another.  However, these four guys will be starters during next Friday's exhibition game and how they play together will be a key to the season.
A New Allen
Grayson Allen has the look of a totally rejuvenated player on and off the court.  Krzyzewski challenged him to be the leader of this years team and he is answering the bell.  Allen scored 13 points in a spirited match up with Gary Trent last evening and was all smiles in the locker room.
A Random Thought
Gone is the long-standing birds nest for radio and TV types which has been replaced by a temporary box of sorts.  It looks a bit generic and would pop  with a Duke Basketball logo or some Blue and White paint.  Just a minor quibble.
Big Time Recruits 
Duke entertained some big time basketball recruits which you likely saw via out twitter feed.  Zion Williamson is on his official visit to Duke and he, of course, is a sure fire prospect.  He sat directly beside Mike Krzyzewski before being called over by the Cameron Crazies where he stood with them the rest of the game.  We cover recruiting in more detail on our message board for members.  And we are running a special in October of two years for 100.00 or a year for 60.00.  In short, we are doubling your membership option of choice.  So, take advantage and join for one year and receive two years of coverage which breaks down to$4.12 a month!
Bookmark Blue Devil Nation for more is coming!  And follow our twitter feed while joining the Blue Devil Nation Facebook Group.