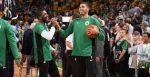 The Boston Celtics will feature two former Duke Blue Devils in their lineup when they travel to play Cleveland tonight.  This is the NBA opener for both teams with plenty of drama after off-season changes.
Boston will see first round lottery pick Jayson Tatum and All Star Kyrie Irving in Celtic green for the first time.  Tatum had a nice summer league while Irving was the talk of the off-season seeking a trade.
Irving, the No. 1 overall pick by the Cavaliers in 2011 who made the game-winning 3-point shot in Game 7 of the 2016 NBA Finals.  He will be playing in his first NBA game in another team's uniform and actually get a video honor in the pre game.
But Irving is sure to hear boo-birds for his less than flattering statements about Cleveland.  What will also be interesting to watch is him going against Dwayne Wade, a player whom LeBron James always wanted to play with.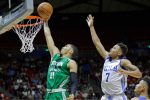 Boston closed out the preseason with a starting lineup of Kyrie Irving, Jaylen Brown, Gordon Hayward, Tatum and Al Horford. Tatum will start tonight with an injury to Marcus Morris and will be a mainstay in the rotation all season long.
Celtics coach, Brad Stevens, has called Tatum wise beyond his years.  But there is always a learning curve for rookies in the league these days.
"Tatum looks like an older version of me, when I started doing the step-back and stuff," said former Celtics standout Paul Pierce.  It is the mid range game that should make Tatum a difficult match up as he develops.
With such a major off-season overhaul, the Celtics are likely to take some time to jell.  The Cavaliers are a 3.5 point favorite tonight and that might be a little low in my opinion.
But it will certainly be fun to watch two former Duke players in the legendary Boston uniforms.  And I will certainly be pulling for them on opening night and throughout the season.
The game is televised on TNT starting at 8:00.